Will Tune Sweeper remove duplicates if my iTunes music is on an external drive or Network drive?
Yes - Tune Sweeper will work fine if your iTunes music is stored on a network drive or an external drive such as a USB drive.
Read on to find out how to scan for duplicates on your external drive. Or, if you are having troubles using the "Not in iTunes" feature, read our article on how to index your external drive.
To remove duplicate songs from an iTunes library located on an external drive, follow these steps...
Ensure that your music files are available to your computer file system before running Tune Sweeper. For example, you should be able to browse your music files using Windows Explorer (PC) or Finder (Mac).
Tune Sweeper reads from your currently active iTunes library. If you need to change the active library which iTunes is using:

(1) Launch iTunes whilst holding the "shift" key down (PC) or the "option" key (Mac).
(2) Select the iTunes library that you wish to use.


You can even set the library location manually on Tune Sweeper (Mac only):
Once the 'Intro' page is displayed within Tune Sweeper, please click Tune Sweeper 4 in the menu bar and then click 'iTunes Library Location'. This will allow you to set the location of your library that you wish to use. Please note that this must be the library loaded into iTunes. Selecting a different library could result in data loss.
Download, install and launch Tune Sweeper.
Search for duplicates with Tune Sweeper
Once you have decided which duplicate groups in iTunes you wish to remove click on 'Remove Duplicates' button in Tune Sweeper.
Download Tune Sweeper Now
Detailed Steps
1. Firstly, use Tune Sweeper to search for duplicates by double clicking on the Tune Sweeper icon to run the program, then selecting "Search For Duplicates". See the Tune Sweeper user guide for details on how to configure Tune Sweeper's duplicate search criteria.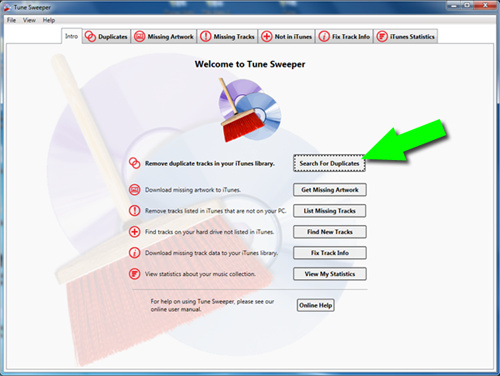 2. Tune Sweeper can help you decide which iTunes duplicate you wish to keep and mark the rest for removal. See the Tune Sweeper User Guide for details on how to select which track to keep with Tune Sweeper.
3. Click on Remove Duplicates in Tune Sweeper.You can optionally select that Tune Sweeper will copy the tracks it removes from iTunes to your recycle bin. This will allow you to restore the tracks from the recycle bin if required or empty the recycle bin when you no longer require the files and want to claim back the disk space they are using.
< Back to Tune Sweeper Support

Publisher:
Wide Angle Software