Solution: Software Activation Fails with an Error




Average:

3.33

(

12

Votes).
Last Updated : | Wide Angle Software
Summary
When you purchase software from Wide Angle Software, you'll receive an activation code for your licence. You'll use this activation code when you open your purchased software to unlock the full, unrestricted version of the program. However, if when you enter your activation code, you get an error, the activation will not complete successfully.
This article provides information on what to do if you receive an Error Code 18, Error Code 99 or Unspecified Error. If you are getting a different error when trying to activate the software please check our complete guide to resolving activation errors.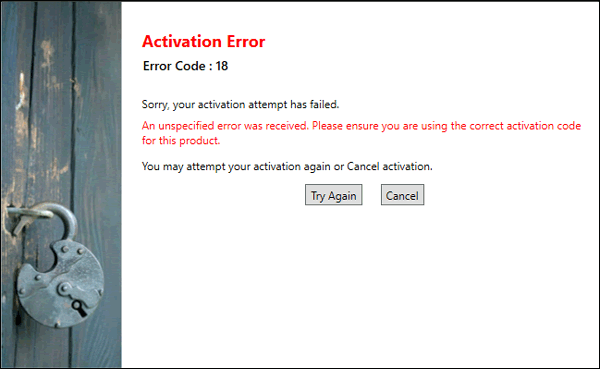 Resolving activation errors on a Windows PC
Error codes 18, 99 and unspecified error can occur when a program does not have the correct permissions to write a required file (in this case, the activation details). To resolve this, please try running the program as an administrator.
To resolve this issue, follow the steps below. In this example, we'll be activating the software "TouchCopy", but the same steps apply for overcoming these errors with any Wide Angle Software products on Windows computers.
Close the program you were trying to activate.
Then, right-click on the program icon either on your desktop or in your programs folder.
Click 'Properties' and then go to the 'Compatibility' tab.
Choose to 'Run this program as an administrator'
Click 'Apply' and then 'OK'.
Relaunch the program and attempt to activate again.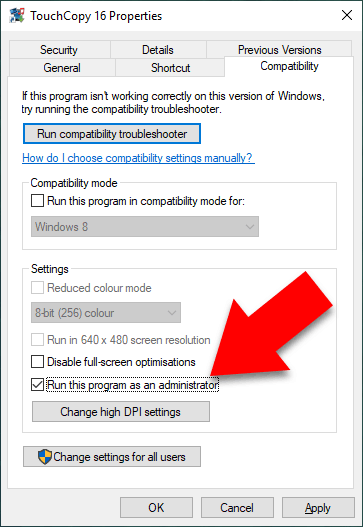 Resolving activation errors on macOS
If you are running macOS Mojave or higher, please enable full disk access for the software, giving it permissions to remain active:
From your Launchpad, open System Preferences.
Then, click 'Security and Privacy'.
Click the lock in order to make changes.
Choose 'Full Disk Access' from the list.
Click the '+' and add TouchCopy (or Tune Sweeper, Music Tag or Duplicate Sweeper depending on the product you're trying to activate).
Close the window and open software to activate it.
< Back to General Support Support

Publisher:
Wide Angle Software