Keeping a backup of your text messages is simple enough, especially if you're using iCloud or Google drive, however you might have some text message conversations that you need to print out and keep on paper, and use this either as evidence in court, or simply in your personal archive.
This article covers a couple of tools which will print messages from your Android phone or iPhone with all the information about the messages at hand: sent messages, received messages, contact's name and number, dates and times, emojis and images. Both tools covered in the article also enable you to save your text messages to your PC in a PDF, Text or HTML format.
Quick Jump to:
How to print text messages from Android
For copying or printing messages from an Android phone, we'll need Droid Transfer.
Droid Transfer can access your Android device's data and copy it to your PC or print it out. The software can find any SMS or MMS message conversations on your device, and print them in the order they were sent. Check out the image below where a conversation is displayed from the connected Android device.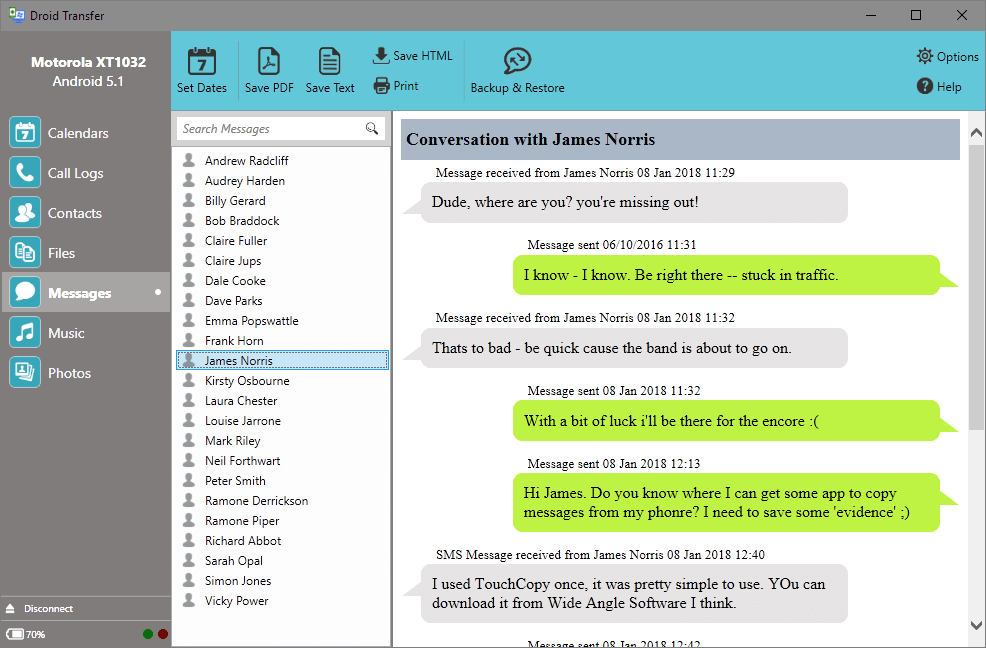 Follow these steps to print Android messages...
Download Droid Transfer on your PC and run it.
Get the free Transfer Companion App on your Android phone.
Scan the Droid Transfer QR code with the Transfer Companion App.
The computer and phone are now linked. Hit the 'Messages' tab in Droid Transfer to view all message conversations.
Select a message conversation and click 'Print'!
If you don't want to print an entire conversation, you can even set date-ranges in Droid Transfer to select and print only messages between certain dates.
Droid Transfer will print all message data including: contact's name or number (or both!), the date and time the message was sent or received, and any emojis or images included in the message. Conveniently, printed message data is presented in a familiar way, similar to that as displayed on your phone.
How to print text messages from iPhone
If you have an iPhone instead, and you need to save and print your messages, we can use the same sequence as for Android phones(above), just using a different tool.
TouchCopy can access and copy any data from iPhones, iPads and iPods (there's no limit to the number of mobile devices that you can use with one TouchCopy licence). In addition to text messages, TouchCopy can also save and print your MMS, iMessage and WhatsApp conversations for court cases or any other situation.
The image below shows an iPhone message conversation displayed in TouchCopy.
To print out iPhone text messages for court, follow these steps...
Download and install TouchCopy on your computer.
Run TouchCopy and connect your iPhone.
Click the 'Messages' tab and locate the contact whose conversation you wish to print.
Click the contact's name to view that conversation.
Hit 'Print'.
Download TouchCopy for PC
Download TouchCopy for Mac
If you only require certain messages, rather than an entire conversation, you can set date-ranges in TouchCopy to select and print only messages between certain dates.
TouchCopy will display and print your messages in a familiar way as shown on your iPhone and includes all message data including: contact's name/number, dates/times messages were sent/received, and any emojis or images in the message. As such, all information needed will be printed with your messages.
Can text messages be used in court?
Please be aware although we have been told by our customers that they have used TouchCopy and Droid Transfer to print messages and present them as evidence in court, we don't have access to details of any such cases, or any involvement with any of the cases. Additionally, Wide Angle Software cannot guarantee the forensic accuracy of any data recovered while using our products.