How to Activate TouchCopy





Average:

3.93

(

15

Votes).
Last Updated : | Wide Angle Software
Summary
TouchCopy is available as a free trial download. When you first install TouchCopy, it will run in demonstration mode with a limited set of features available for free. Please see details of TouchCopy free trial limitations.
A full licence for TouchCopy will unlock the full version of the program and remove any demo restrictions.
If you have purchased a TouchCopy licence, this guide will show you how to use your activation code to activate your licence in TouchCopy!
How to activate TouchCopy on Windows PC
After downloading and installing TouchCopy on your PC, run the software by double-clicking on the TouchCopy icon on your desktop. When the TouchCopy window opens, you will be able to see the 'Activate' button, located in the top right-hand side of the programs window (as seen below). If this button is not visible for you, this means that TouchCopy is already activated on your PC.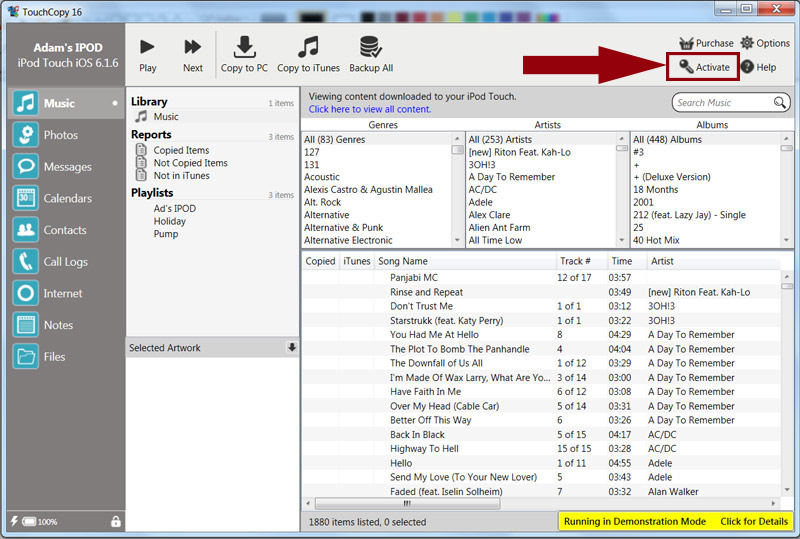 Clicking this button will open a window to prompt you to enter your activation code which you received when purchasing TouchCopy. Enter your activation code in the box and then click 'Activate'. If you don't have an activation code you can purchase one here.
If you don't have your activation code handy, you can use our activation lookup service to find your code.
You will then be asked to enter a password for your activation code, and a recovery email address for your password. This password is for security and anti-piracy reasons, and will only be needed should you need to re-activate TouchCopy at a later date or on a different computer.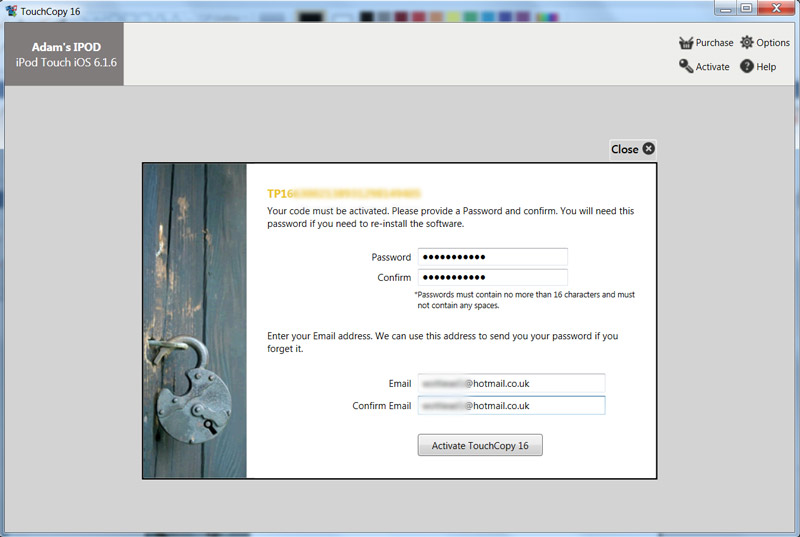 1. Enter a password for your activation code and then re-enter to confirm it. Please ensure that your password only contains alphanumeric characters and no punctuation, and is also fewer than 16 characters long, and note that TouchCopy passwords are case sensitive.
2. Enter your recovery email and again to confirm it. This recovery email is used should you forget your password in the future, when needing to re-activate TouchCopy.
3. Once you have completed the above information, click the 'Activate TouchCopy' button.
You will have now successfully activated TouchCopy, and the screen below should be displayed as confirmation. Click 'Continue' to return to TouchCopy and begin using your software. All trial limitations will now have been removed.
How to activate TouchCopy on a Mac
Launch TouchCopy from your Applications Folder.
Connect your iPhone/iPod/iPad to your Mac, select it in TouchCopy, then click "Connect".
Next, click "Activate" from the toolbar on the left of the TouchCopy window.
Here, you can input your TouchCopy activation code that you received after purchasing your licence. If you have not yet purchased a licence, you can purchase one here.

If you own a licence, but don't have your activation code handy, you can use our activation lookup service to find your code.
Click the "Activate" button to complete your activation. All trial limitations have now been removed.
Don't forget to like & share with your friends!

Publisher:
Wide Angle Software
Back to TouchCopy Support