Does iBackup Extractor read Encrypted backups?
Summary
To read encrypted backups using iBackup Extractor, follow these steps...
Download, install and launch iBackup Extractor.
Select the backup that you would like to read.
Enter the password used to encrypt the backup.
Download iBackup Extractor Now
Detailed Steps
Yes, versions 2.00 and later of iBackup Extractor do read encrypted backups.
Please update iBackup Extractor to the latest version here.
For iBackup Extractor to be able to read your encrypted backup, you will need to enter the password you used to encrypt your backup in iTunes (or in Finder if you are using macOS Catalina or higher), at the screen below.
Note that this password is only used locally on your computer so that you can open your iPhone or iOS device backup and is not saved in iBackup Extractor or shared with anyone.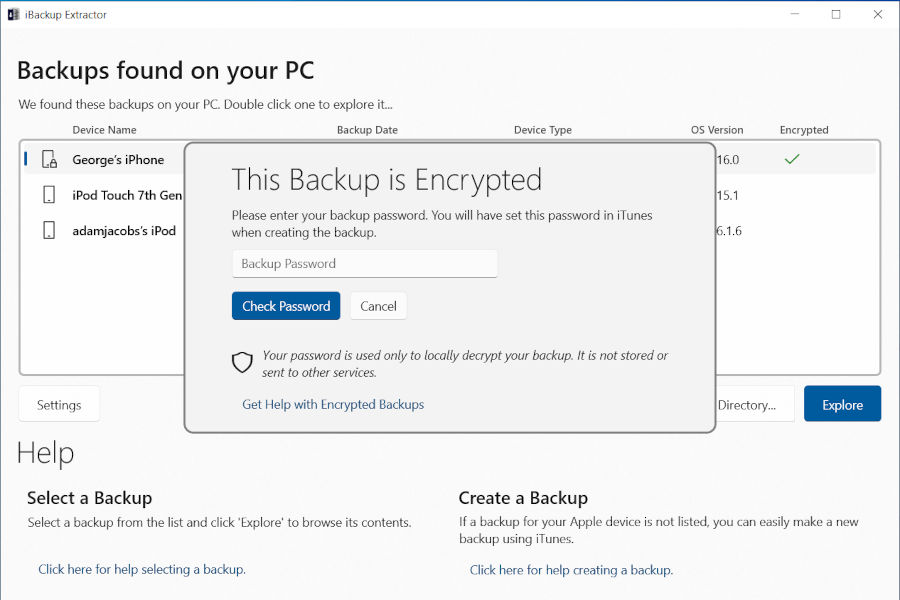 After you have correctly entered your password, the content of your backup will be displayed on your computer and you can use iBackup Extractor to view and extract data from your backup as shown in the iBackup Extractor User guide.
< Back to iBackup Extractor Support

Publisher:
Wide Angle Software