Can iBackup Extractor retrieve voicemails from my iPhone backup?
Summary
To transfer voice mails from your iPhone backup to your computer, follow these steps...
Download and install iBackup Extractor.
Select your backup from the dropdown menu.
Click the Voice Mail tab.
Select the contact whose voice mail you would like to save, then click the voice mail.
Finally, click Copy Voice Mail to Mac/PC, and select where you would like to save to.
If you have not done so already, you can download iBackup Extractor from here:
Free iBackup Extractor Download for PC
Free iBackup Extractor Download for Mac
Further Information
Yes, iBackup Extractor version 2.10 and higher is able to access voice mails in your iPhone backups.
iBackup Extractor will display and extract voice mails if your iPhone supports Visual Voice Mails. These will be voice mails that are provided as part of the Visual Voice Mail data plan from your mobile service provider. You can determine if your wireless carrier includes Visual Voice mail as part of their service from here...
Wireless carrier support and features for iPhone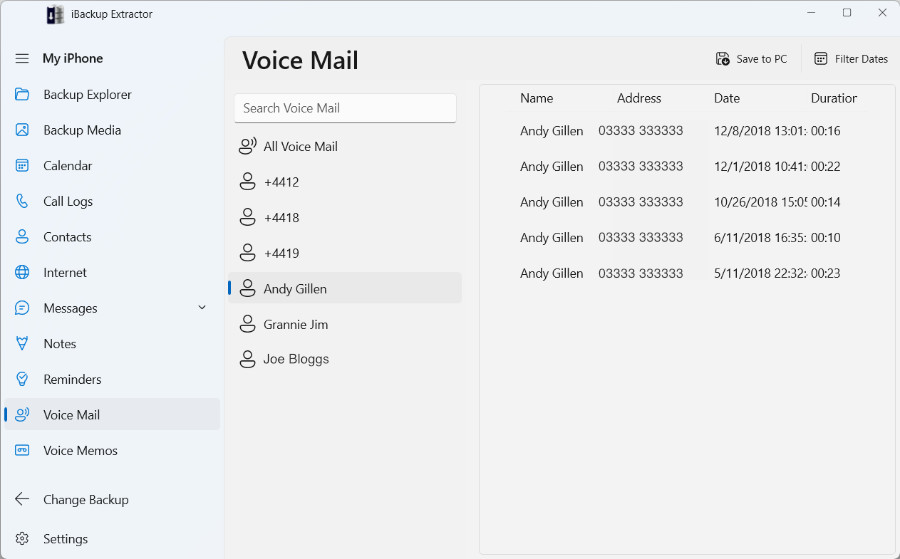 Playing your Voice Mails
Voice Mails are saved as AMR files, which can only be played with certain software.
If you are using a Mac, you will be able to play your voice mail files with QuickTime Player. However, if you do not have access to this software, or if you are using a Windows PC, you may need to download a free piece of software such as AMR Player, to listen to your saved voice mails.
< Back to iBackup Extractor Support

Publisher:
Wide Angle Software