TouchCopy does not detect my iPhone, iPad or iPod.




Average:

3.68

(

59

Votes).
Last Updated : | Wide Angle Software
Summary
If TouchCopy is unable to detect your iPhone, iPad or iPod when connected with USB, follow the steps below...
(Want to connect using Wi-Fi instead?)
Ensure that you are running the latest version of TouchCopy.
Make sure that iTunes is installed on your computer (not required on macOS Catalina or higher).
Turn your device on.
Unlock your device and go to Home screen. Make sure it remains unlocked while TouchCopy attempts to detect your device.
Tap "Trust" your computer on your device if you see a Trust this Computer alert.
Disconnect and reconnect your device while TouchCopy is running.
Update your iOS device and your computer.
Disable restrictions on your iPhone.
Restart your iOS device and computer.
If you have tried the steps above and are still having issues, please check is your computer recognising your iPhone, iPad, or iPod. Once your computer has found your device, try using TouchCopy again.
Detailed Steps
This article provides recommended steps for TouchCopy to find your iPhone, iPad, iPod Touch or another iPod without a click wheel. If you are using a standard click-wheel iPod, such an iPod classic, iPod mini or a first to fifth generation iPod nano, please visit our other support article here providing help with TouchCopy detecting your click-wheel iPod.
Get the latest version of TouchCopy
We are always working on improving TouchCopy, whether it be introducing new features, making improvements or fixes. Running the latest version of the software ensures that you have all the fixes and improvements that we have released. You can check for updates in TouchCopy by going to Options > Updates within the software or visit the link below.
Download TouchCopy Update
Get the latest version of iTunes
iTunes is required for TouchCopy to detect your iPhone, iPod Touch or iPad except on macOS Catalina - in this case, the default Music App is required. This is pre-installed on your Mac running macOS Catalina by default.
Please download iTunes from Apple directly as below.
Download iTunes for Windows 64 bit
Download iTunes for Windows 32 bit
Download iTunes for Mac
Unlock device and Trust Computer
Please try disconnecting and then connecting your device with TouchCopy running. If this does not work, restart TouchCopy with your iTouch, iPhone or iPad still connected.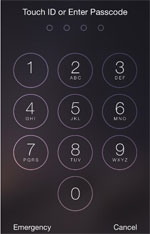 If your device has a passcode on the lock screen, disconnect your device from your computer, enter the passcode, go to your Home screen and then re-connect your device to the computer.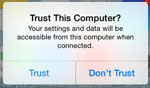 If prompted, tap Trust on your device to trust your computer. If you choose not to trust the connected computer, you can charge your device, but the connected computer won't be able to access any content on your device.
Update Apple mobile device drivers
If your problems persist, please also check is your computer recognising your iPhone, iPad, or iPod. If it isn't, you may need to update your Apple mobile device drivers as detailed in the Apple support article here... https://support.apple.com/en-gb/HT204095
When you update your Apple mobile device drivers, please restart your computer and try using TouchCopy again.
Check Permissions and Pre-requisite Software (PC Only)
Please make sure that TouchCopy has the correct permissions to run as expected, by running it as administrator. To do this right-click the TouchCopy icon either on your desktop or in your programs folder. Click 'Properties' and then go to the 'Compatibility' tab. On here please choose to 'Run this program as an administrator'. Once done press 'Apply' and then 'OK'. Please then re-launch TouchCopy and try again.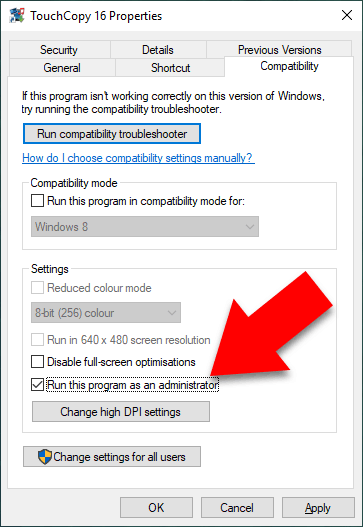 Check Restrictions on your iPhone
Restrictions set on your iPhone could be blocking communications between it and your computer. To remove these restrictions:
Open the Settings app on your iPhone and tap "Screen Time".
Tap "Content & Privacy Restrictions".
Finally, tap to toggle off "Content & Privacy Restrictions".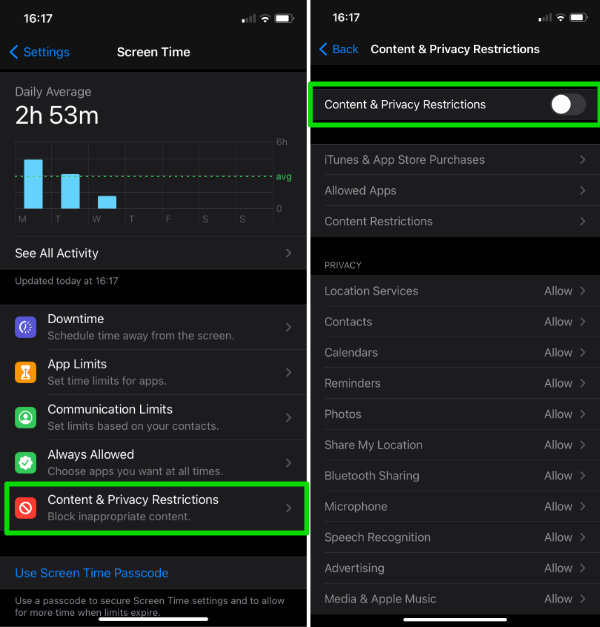 Contact Us
If you continue to have problems with TouchCopy detecting your iPod, iPhone or iPad, please contact our support team.
It will help the team resolve the issue as quickly and efficiently as possible if you could email us a TouchCopy's process log. This log can provide crucial information to help us identify the issue for you.
To email us TouchCopy's process log on a Windows PC:
Please launch TouchCopy and connect your iOS device using a USB cable, then wait a few moments for TouchCopy to attempt to connect to your device.
If the device does not connect after a few minutes, click on Options > Log in TouchCopy.
In the logging window, select 'Copy to Clipboard'. This will copy the text in the logging window.
To email us a Console log on a Mac computer:
Open your utilities folder
Start the "Console" application
Don't forget to like & share with your friends!

Publisher:
Wide Angle Software
Back to TouchCopy Support