Introduction
So you are looking to make the change from iPhone to Android. Android is the most popular OS (operating system) worldwide (Source: Statcounter 2019), so it is only natural for you to be curious and ditch the iPhone for a while at least.
One of the biggest questions we are asked is how to transfer data from iPhone to Android.
Whatever your reasons for switching, this guide will show you how to easily transfer everything from your iPhone to your new Android phone. For each different section, we will take a look at a couple of different ways to transfer data from iPhone to Android- first of all being a comprehensive tool which makes quick and easy work of data transfer from your iPhone - TouchCopy. You can try out the TouchCopy software free, allowing you to transfer up to 100 music tracks from your iPhone.
Try TouchCopy free ▼
Receive an email with a link so you can download the free trial on your computer:
Note: We respect your privacy. We won't share your Email address with anyone else, or send you spam.

Buy TouchCopy now
Jump straight to:
Step 1: Music
Method 1: Transfer music from iPhone to Android: TouchCopy
Our most comprehensive solution comes first - TouchCopy software. If you desire ease of use, and a 'one tool for all tasks' option, I would recommend using TouchCopy.
TouchCopy will transfer all different types of data from your iPhone (and iPad and iPod) to your PC or Mac. Messages, music, photos, contacts, and more and be copied! Here's how to transfer music from iPhone to Android:
Download TouchCopy on your computer and run it.
Connect your iPhone.
Once TouchCopy loads your iPhone music, hit "Backup All".
Choose to back up the content to a folder on your PC.
Connect your Android device to your computer.
Drag and drop the music files (and video if required) into your Android Phone!
Find out more >

TouchCopy Free Download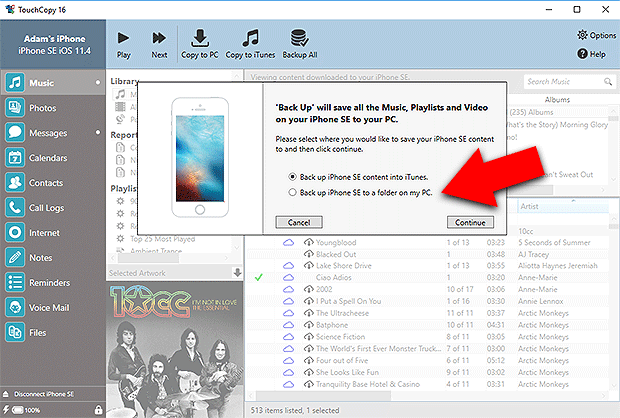 Method 2: Transfer music from iPhone to Android: iTunes
You can also do this task in a similar way using iTunes. However, you can only transfer music purchased through iTunes to your Android using iTunes. To transfer any other music from your iPhone, you'll need a tool like TouchCopy.
Open iTunes on your computer and connect your iPhone.
Right-click on the name of your iPhone, and choose "Transfer Purchases". This will ensure all relevant media is in your iTunes library before the transfer to Android.
Once the transfer is complete, connect your Android phone.
Locate your iTunes music using File Explorer. By default, it will be at this path: User > Music > iTunes > iTunes Media.
Drag and drop the music into your Android phone.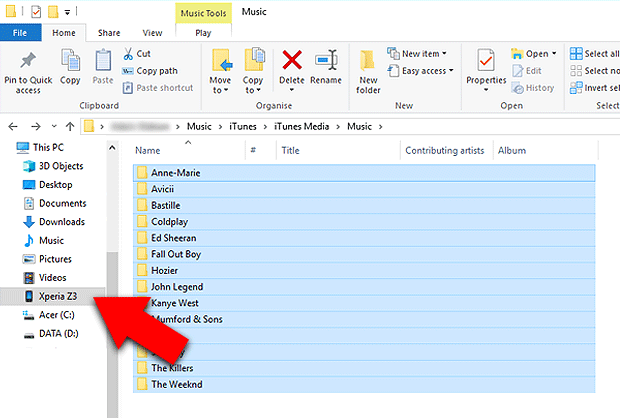 Publisher:
Wide Angle Software
Don't forget to like & share with your friends!