Introduction
Transferring files from your Android device to your computer does not need to be a tedious or difficult task. This article will take you through 3 different ways in which you can transfer files from your Android phone to your PC over WiFi. Quickly back up your files, or transfer them for use on your PC with ease, and without the use of a USB cable.
Quickly jump to your specific transfer situation:
Transferring files between Android and a PC: Droid Transfer
Our most comprehensive solution comes first - Droid Transfer. This option is for users who desire ease of use and an intuitive interface, as well as the ability to transfer many different types of data from your phone (such as messages, music, photos, contacts, files and more). Here's how:
Download Droid Transfer on your PC and run it.
Get the Transfer Companion App on your Android phone.
Scan the Droid Transfer QR code with the Transfer Companion App.
The computer and phone are now linked. Select the files that you'd like to transfer from your Android device and hit "Copy to PC" in Droid Transfer.
To add files from your PC to your Android device, click on Add File in Droid Transfer and choose a file on your PC you wish to add to your device.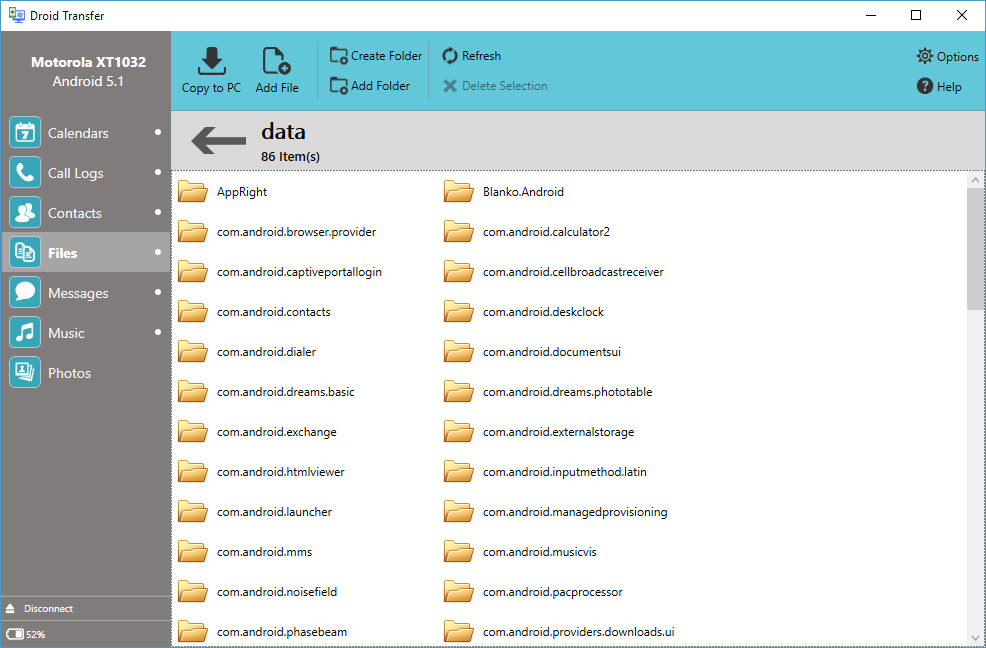 Summary (Droid Transfer):
✔Wireless file transfer ✔User-friendly interface ✔Transfer of many different data types ✔Locally stored data ✔Unlimited storage space
Transferring files from Android phone to PC: Cloud Services
Another great way of transferring files between Android device and your computer is using a cloud service. Cloud Services such as Dropbox and Google Drive allow you to upload files from your computer, or phone, and then allow you to access those files from any of your devices. Bear in mind that your data will be stored externally, so it's not as secure as a simple file transfer between phone and PC. This option is perfect if you plan on syncing files between your devices. Here's how:
Go to your chosen cloud provider's website.
Register for the cloud service. Most provide a free option which gives a limited amount of online storage, with the option to pay for more.
Download the accompanying app on your phone, and set up up with your account details.
You can now transfer files between all of your devices, through your cloud storage.
Summary (Cloud Services):
✔Wireless file transfer ✔Transfer limited data types ✔Externally stored data ✔Limited storage space
Transferring files from Android to PC: Bluetooth
The last method I'll mention is Bluetooth. "What is Bluetooth?", you may ask, and rightly so - the once popular Bluetooth has now taken a backseat to make way for more accessible Wifi. However, there is still a place for Bluetooth for file transfer, as you can use it if you have no Wifi. Bear in mind that not all devices will have Bluetooth available, especially some computers/laptops. Here's how it's done:
Turn on Bluetooth on your computer and on your phone, and ensure that your device is discoverable.
On your PC, go to your Bluetooth settings (you can search for "Bluetooth" for your Start menu).
Select your Android phone from the list of devices, and pair.
You may be prompted to enter a security code that will be provided, otherwise, you are paired (Image 1).
You may also need to allow the receiving of files from your phone on your computer. If this is the case, you can find this option by clicking "Send or receive files via Bluetooth" on the right of the Bluetooth options on your PC (Image 2).
Find the file you wish to transfer from your phone (eg a photo). Choose the "Share option".
Share via Bluetooth and save to PC (Image 3).
Image 1.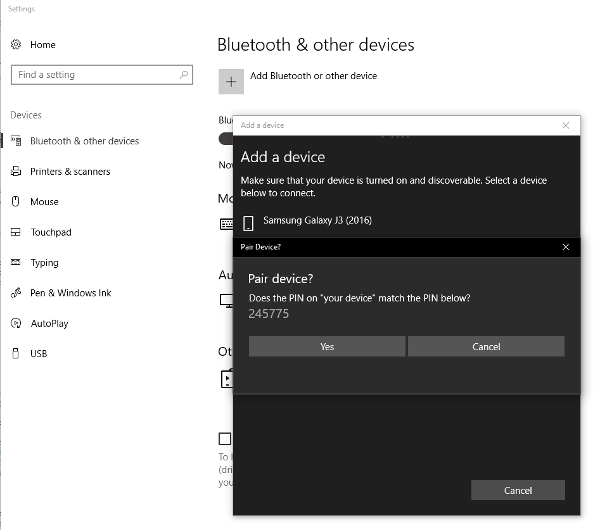 Image 2.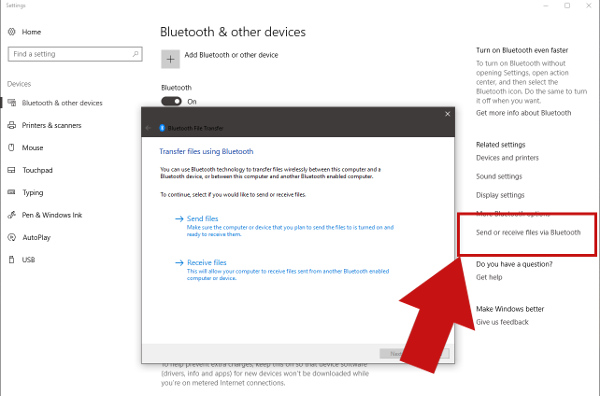 Image 3.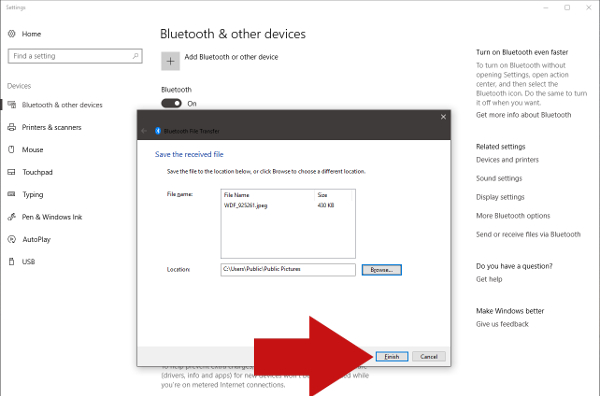 Summary (Bluetooth):
✔Wireless file transfer ✔Transfer limited data types ✔Internally stored data ✔Unlimited storage space ✔Does not require Wifi