This page explores some functionality not approached on the other entries. All options can be accessed by clicking the "Options" button in the top-right corner of the iBackup Extractor program on PC; or "Preferences" in the toolbar on the left of iBackup Extractor on Mac.
General
The General tab provides the ability to set preferences such as whether iBackup Extractor checks automatically for updates and whether to display a pop-up message to let you know when a copy is complete.
Ticking "Load section on start-up of iBackup Extractor" enables you to choose which section is loaded when you launch iBackup Extractor.
You can also set your preferred language on this page. To do this, click the dropdown box and select your language. Once done, you'll need to restart iBackup Extractor for the change to take effect.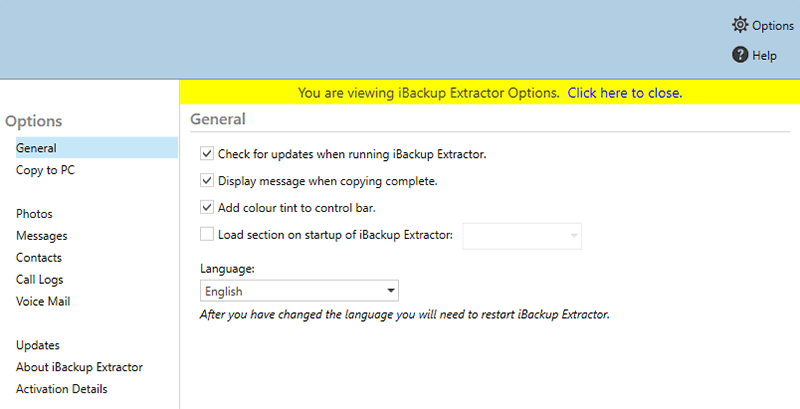 Copy Options (Copy to PC/Mac)
This tab allows you to change the default save path. Whenever you save or extract files from your backups, this path will be selected by default to save you time.
On the same point, you can choose whether iBackup Extractor will ask you to confirm a save location each time you extract a file with the "Request save destination before each copy operation".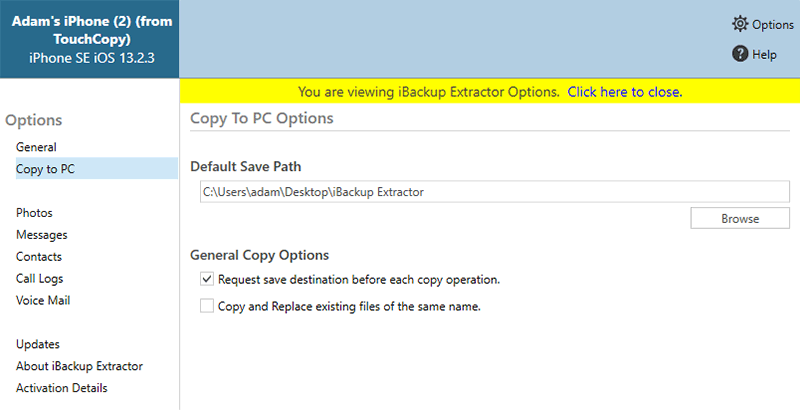 Photos
HEIC Export Options: This feature is available on Windows only (Mac natively supports HEIC photos).
Choose how you would like iBackup Extractor to handle copying HEIC formatted photos to your computer. By default, iBackup Extractor will automatically convert your HEIC formatted photos to a JPEG file, so they can be viewed on your PC. If you prefer not to perform this conversion, uncheck this box as below. You can also copy both the HEIC original photo and the converted JPEG photo with iBackup Extractor by making sure both boxes below are checked.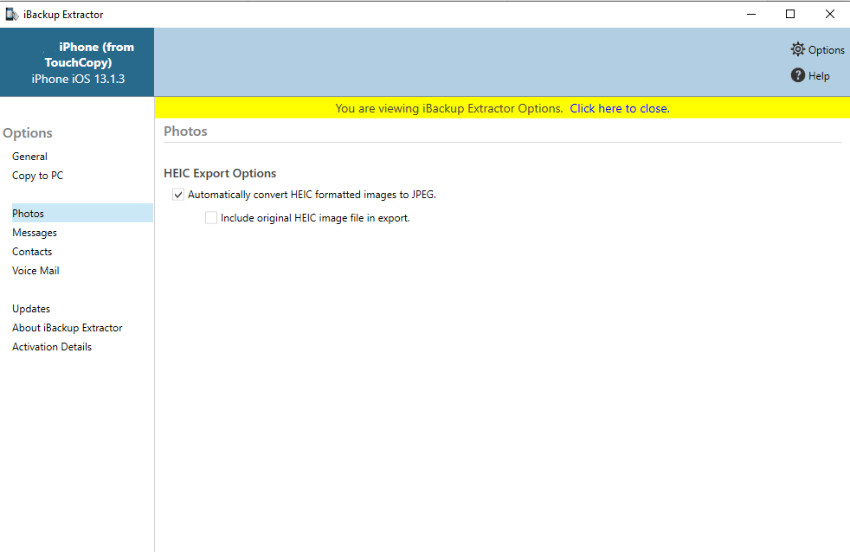 Messages
Limit Options: From this tab, you can limit the number of messages which are loaded into the view panel. This is especially useful for users who have slower machines - loading only a few of the most recent messages of a large conversation can save lots of loading time if you are only looking for a certain message.
Contact Options: This tab also provides options on how to group and order your message conversations, and what information is displayed when copying the messages to your computer (including or excluding contact numbers and contact pictures).
HEIC Export Options: This feature is available on Windows only (Mac natively supports HEIC photos). Choose how you would like iBackup Extractor to handle copying HEIC formatted photos to your computer.
Format Options: Setting format options are great for users printing their messages. By changing the font size, you can fit more of your messages one a single printed page. Enabling "Compact Layout" removes some white-space from a document - this means that you can fit even more messages onto a printed page.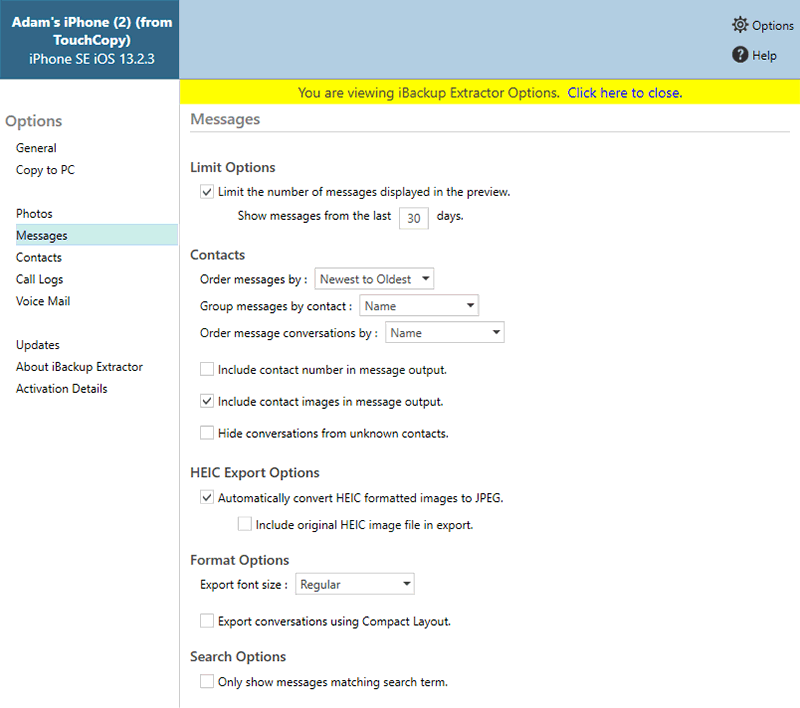 Contacts
Choose to sort your contacts (in the Contacts tab) by First Name, Last Name; or by Last Name, First Name.
Call Logs
Sort Options: Choose to sort your logs by Name (alphabetically), or by when they were Last Updated.
Limit Options: Limit the number of logs displayed in iBackup Extractor. For example, setting this option to "10" will mean that iBackup Extractor will display the most recent 10 days worth of Call Logs which are available in your backup.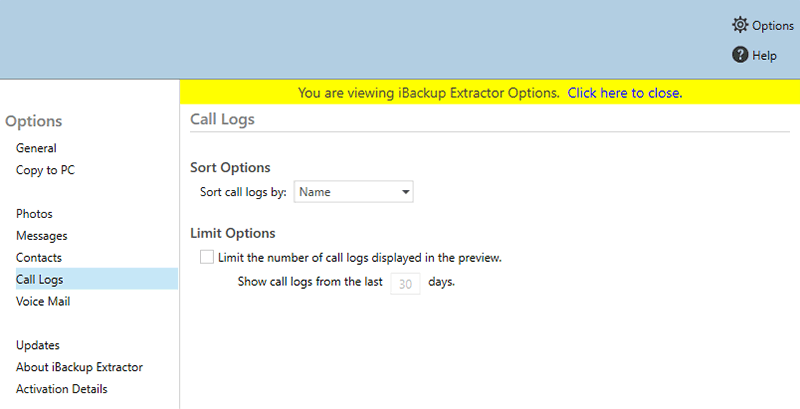 Voice Mail
Here you have the option to include the date and time of the voicemail in the filename of a copied voice mail. This can make managing your voicemails easier on your computer.
Updates
Clicking this tab will automatically start a check for updates for your current version of the software. If an update is found, a link will be provided so that you can quickly download the update.
About iBackup Extractor
Contains information such as the version of iBackup Extractor that you are currently running. If you should need support with the software, one of our representatives may ask for this information in order to help with your request.
Activation Details
Contains information about your software activation. You can even deactivate your software from here, freeing up the activation slot so that you can activate on a different computer.