Print and Save SMS iPhone conversations with your loved one.
14 Feb 2017 | Author: Wide Angle Software Team
Happy Valentine's Day! How's this for a novel gift idea for a loved one?
Save and print the SMS, iMessage and WhatsApp conversations you have had with your loved one.
Print all the messages of love you have expressed to each other over time and present them to your loved one in any manner you wish.
It's easy to do with TouchCopy.
TouchCopy will save your messages from your iPhone to your PC or Mac. From there you can send the messages to your printer.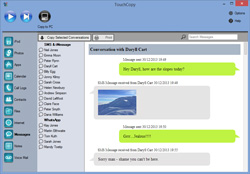 How to print SMS Messages from your iPhone
Here is the step-by-step guide on how to copy conversations from your iPhone.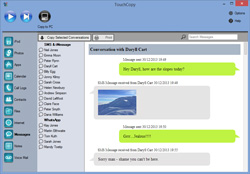 Click to enlarge
Download TouchCopy to your PC or Mac.
Run TouchCopy and connect your iPhone to your PC or Mac.

Connect your iPhone to your Mac or PC using a USB cable. Wait for TouchCopy to detect and read your iPhone.

Click on the Messages icon in TouchCopy.

TouchCopy will copy all sorts of stuff from your iPhone but for now we are only interested in Messages. Click the Messages icon.

Select your loved one from the contacts list.

TouchCopy will display a list of all the contacts and groups you have had conversations with over SMS, iMessage or WhatsApp. Select your Valentine from the list.

Click "Print" - TouchCopy prints the conversation directly to your printer!
Alternatively, Click "Copy Conversation" - TouchCopy saves your conversation to your computer in HTML format that can be opened in any web browser.

TouchCopy saves all the text messages and pictures you have sent and received.
Happy Valentine's Day!
Please see the TouchCopy User Guide for more information on how to download text messages from iPhone.
TouchCopy is a free demo download for PC and Mac and it is compatible with all iPod, iPhone and iPad models.