Introduction
Music, music everywhere and why is it all the same? If you find yourself with loads of duplicate tracks on your computer or iTunes, you are in the right place.
Files can be duplicated for many reasons, and if you don't keep on top of managing them, they can be a pain in the bum to get rid of. Removing duplicate music from your computer can keep your libraries tidy and also free up a lot of space on your computer.
This article provides 3 different duplicate music finders that you can use to easily find and remove duplicates from your computer.
Here are the three methods reviewed:
iTunes Duplicate Music Finder
First up is iTunes. If you have duplicate tracks listed in iTunes, you can be listening to the same song multiple times in the same list - this can be pretty annoying.
iTunes provides a feature where it will list these duplicate songs for you. Though it doesn't provide any filters to help choose the best file to delete (see Method 2 for automatic selection of the best tracks to keep), you can then go through and remove the ones you don't want at your leisure - Here's how:
Open iTunes.
Go to File > Library > Show Duplicate Items.

Select the tracks you wish to delete.
Right-click > Delete from library.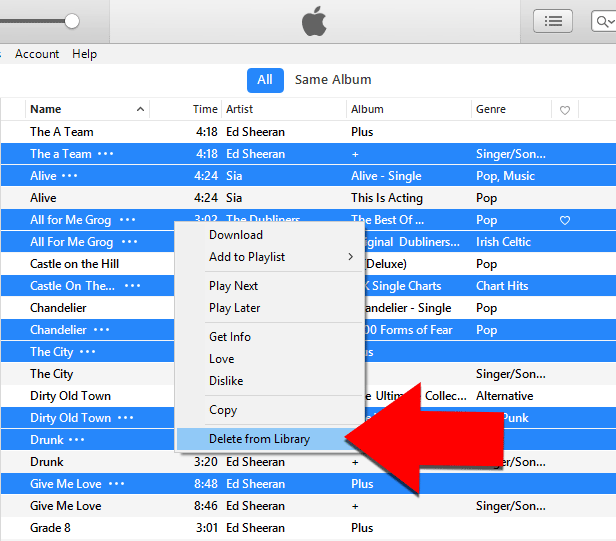 Summary (iTunes):
✔ Use directly within iTunes ✔ Easy to Use ✘ No automatic duplicate selection
Tune Sweeper - Duplicate Music Finder
So, we have seen that we can use iTunes directly to find and remove duplicate music. However, which tracks do you pick to remove? Should you listen to each one to pick the best before deleting?
If you are having this issue, or if you have a large number of duplicates that you simply don't have time to examine and delete, you need a tool to help you.
Tune Sweeper is your one-stop tool for iTunes management. You have absolute control of how duplicates are found, and which are deleted. Tune Sweeper provides the ability to find duplicates based on Artist, Album, Track #, Track Count and Time Difference, so you can find only the tracks that you need to remove.
As well as finding duplicates, it intelligently allows you to remove duplicates based on preferences like "Highest Quality", "Longest Duration", and "Latest Added" - this can cut your time managing your library drastically. Here's how:
Open Tune Sweeper.
Click "Search for Duplicates".
Select tracks to remove by using the checkboxes, or using the selection preferences.
Hit "Remove Duplicates".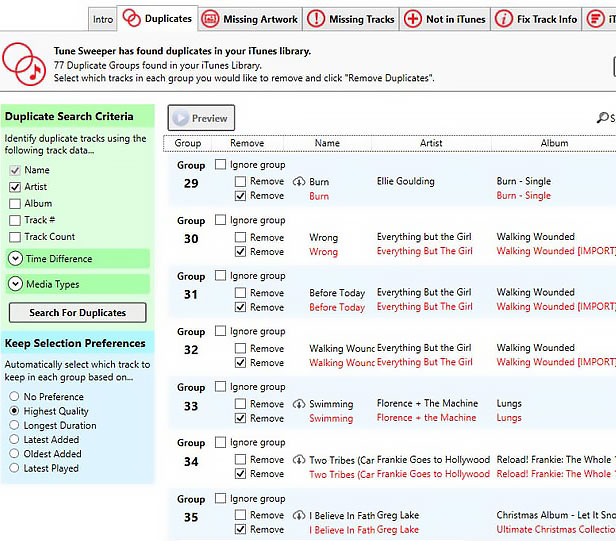 Download free Tune Sweeper demo
Tune Sweeper also boasts loads of other helpful features like downloading missing artwork to your albums, fixing track information, and deleting track entries which are no longer available on your computer.
Summary (Tune Sweeper):
✔ Quick and Easy ✔ User-friendly interface ✔ Automatic duplicate selection based on your preferences ✔ Free demo ✔ Other iTunes clean-up features ✔ For use with iTunes
Duplicate Sweeper - Duplicate Music Finder
The final method I want to bring to your attention is Duplicate Sweeper. Up until this point we have looked at how to find and delete duplicates from iTunes - but what if your duplicate tracks aren't in iTunes?
Duplicate Sweeper can find and remove duplicate files from your computer, whether they be photos, files, music etc. Here's how:
Open Duplicate Sweeper.
Add the folder/s that you wish to search for duplicates.
Hit "Start Duplicate Search".
Select which duplicates to keep, using the tick boxes or the "Keep Newest/Oldest" preferences.
Click "Recycle Selected Duplicates".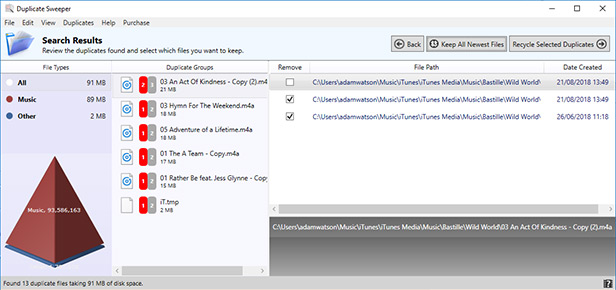 Download free Duplicate Sweeper demo
Summary (Duplicate Sweeper):
✔ Quick and Easy ✔ User-friendly interface ✔ Automatic duplicate selection based on your preferences ✔ Free demo ✔ Find and remove files and photos as well as music