Introduction
iTunes has long reigned as the go-to application for media management on Windows since its launch in 2003. Yet, as the tech landscape evolves, so do our needs and expectations. iTunes, despite its strengths, isn't immune to its own set of limitations and challenges.
You might be considering alternative options due to various factors. iTunes has been known to be resource-intensive and complex for some. Additionally, it can be restrictive when it comes to transferring media - a frustration many have encountered when attempting to move their music from their iPhone to a PC.
So, if you find yourself at a crossroads with iTunes, you're not alone. This article explores the best iTunes alternatives, providing you with the information you need to make an informed decision.
What to consider when choosing an iTunes alternative for Windows
Device Support: Does the app support Windows PCs and Macs? What about iPhones, iPads and iPods?
Music Player: How well the app helps organize, manage and play a music library.
Media Backup & Transfer: Can the software back up content like Messages, Contacts, Call History, Photos etc from iOS device to computer? Can it transfer music from device to device?
Interface and User Experience: An app can be feature-rich, but unusable. How easy is the app to use?
Cost: Whether the app is free, a paid licence, or a subscription model.
Quick jump to any of the iTunes alternatives reviewed:
Option 1: Waveform Music Player
Waveform Music Player is a fantastic alternative to iTunes as it is easy to use, looks great and has some really clutch features on offer.
This lightweight app is more than just a music player - it also offers users the ability to copy music between PC and iOS device (iPhone, iPod, iPad) - in both directions! This feature really is a breath of fresh air, as users can choose exactly what music to copy, without risk of deleting existing music already on the device due to syncing.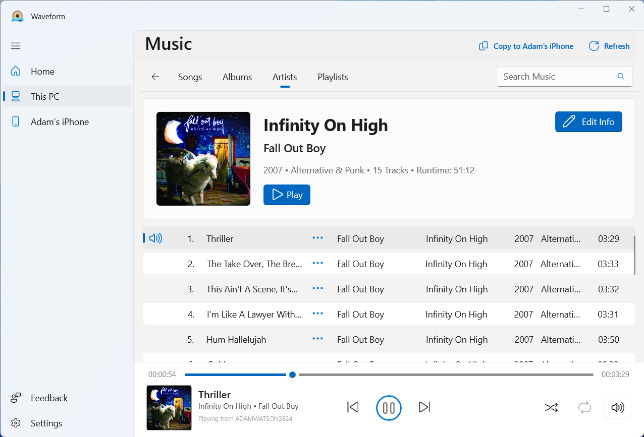 Waveform key features
Browse your music library on your computer with a sleek, simple and modern interface. All the controls you would expect are easy to find and at your fingertips.
Automatically populates your music library with music found on your PC.
Connect any iPhone, iPod or iPad to browse and play the device's music on your computer.
Take full control of your music by copying seamlessly between PC and iPhone - no syncing - no restrictions.
Create custom playlists to organize the music on PC.
Your music looks as good as it sounds because Waveform automatically downloads any missing album/artist artwork for your library.
Waveform Music Player is 100% Free!
Is Waveform a good alternative to iTunes?
Waveform Overall: 4.2

Device Support: 4/5
Supports Windows PCs and all iOS devices (iPods, iPhones, iPads).
Music Player: 4/5
Lots of tools which allow for easy organization of music libraries: view music by Song, Album, Artist or Playlist; easily sort and search your library; and create custom playlists to effectively group your music.
Media Backup & Transfer: 3/5
2-way music transfers. Easily copy music from PC to iOS device, and vice-versa (iOS device to PC) with full control.
Interface and UX: 5/5
A clean and simple interface where all features are easily accessible. Extra details like automatically downloading missing artwork make this feel like a truly beautiful experience.
Cost: 5/5
It's absolutely free.
Editor's comments
Waveform is an incredible, lightweight music manager which is perfect for the general audience. This app could not be easier to use - but it's still bursting with all the main features you'd expect from an iTunes alternative. On top of that, we found that the transferring of music between device and computer is a revelation - you have full control of exactly what music is transferred, and it works in both directions, unlike iTunes!
Option 2: MediaMonkey
MediaMonkey is a robust music management software designed for Windows users who want comprehensive control over their music libraries. It's known for its extensive feature set which can be expanded further by purchasing a "Gold" license.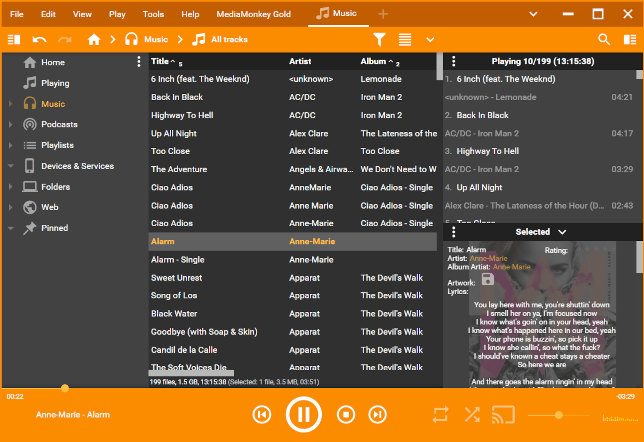 MediaMonkey key features
Precise library import. Choose to import by folder, by media type (music, podcasts, audiobooks...) and you can even import information like playlists, ratings and play history from iTunes before you complete the switch.
Choose specific music to copy between PC and mobile device or sync your entire PC music library with the connected device.
A tidy and clear interface where all the main features are easily accessible. You can also choose to hide some panes in the app to clear it up even more.
10-band equalizer, volume levelling and more to help get the most out of the library's quality.
A plethora of music organization features including the creation of playlists and auto-playlists, scanning for duplicate tracks, music tagging and removing dead tracks.
Is MediaMonkey a good alternative to iTunes?
MediaMonkey Overall: 4.0

Device Support: 4/5
Supports Windows PCs, all iOS devices (iPods, iPhones, iPads) and click-wheel iPods.
Music Player: 5/5
Fantastic range of organizational features all the way from the initial setup of the library to viewing the library using different categories, to managing the library afterwards by way of keeping the library tidy.
Media Backup & Transfer: 3/5
Choose exactly what music to copy in 2-way transfer or sync the entire library from PC to the mobile device.
To copy other media like Messages and Contacts, you'll need to use TouchCopy.
Interface and UX: 4/5
A generally good-looking and uncluttered interface with some basic customization available.
Cost: 4/5
It's available as a free download with a generous feature set. Users who want more features (especially automated organization) can purchase a version-specific license for $29.95 USD or a lifetime license for $59.95 USD.
Editor's comments
MediaMonkey is an iTunes alternative which really excels in music organization. Even in the free version of the app, there are a dizzying number of features users can capitalize on to ensure a complete and pristine music library on Windows PC, which you can share easily with mobile devices. Finding and removing duplicates, Auto-playlists (playlists populated by tracks in your library based on criteria set by the user) and being able to download lyrics to tracks were particularly exciting gems to find.
Option 3: TouchCopy
TouchCopy stands out as an exceptional program for efficiently backing up and transferring content from iOS devices like iPhones, iPads, and iPods (and click-wheel iPods) to your computer. As well as being able to play music from any connected iOS device, TouchCopy empowers you to explore other content on the device and select precisely what you want to back up - whether it be music, messages, photos or anything else!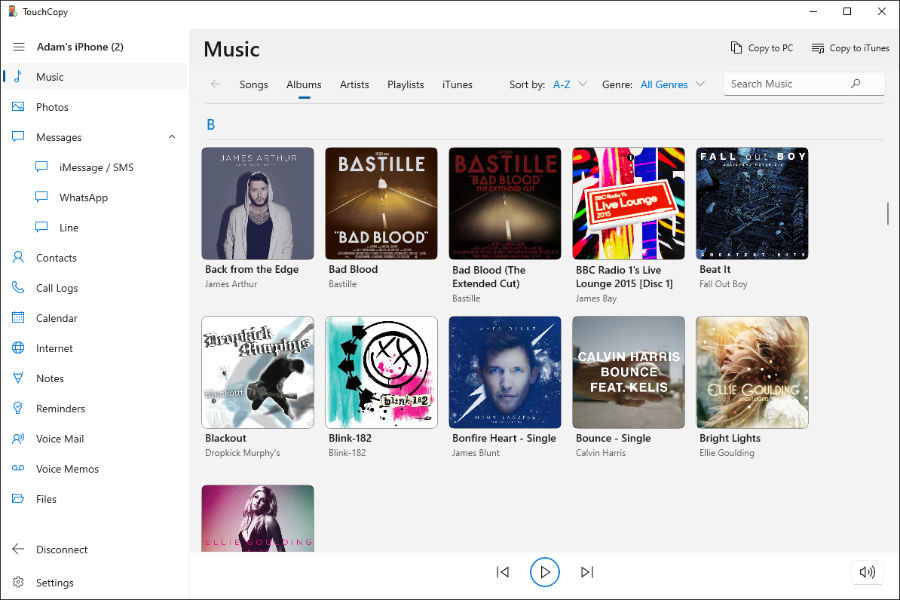 TouchCopy key features
Music playback of connected iPhone, iPod, iPad devices and music organization by Song, Album, Artist, Playlist and Genre. As well as sorting and search options.
Copy Music, along with important data like album artwork, ratings and play counts to the computer hard drive, or directly into an iTunes library.
Transfer all your important audio files like Playlists, Podcasts and Ringtones.
Export messages, call history, contacts and calendar.
Back up photos, videos and more to PC or Mac.
Is TouchCopy a good alternative to iTunes?
TouchCopy Overall: 4.0

Device Support: 5/5
All iOS devices are supported (iPods, iPhones, iPads) as well as click-wheel iPods. The app itself can be used on Windows or Mac computers.
Music Player: 3/5
You can play music from any connected iOS device, but TouchCopy does not play or manage the music library stored on the computer itself.
Media Backup & Transfer: 4/5
Back up any and all content from device to computer including Messages, Photos, Videos, Contacts, Call History, Calendars, Voice Mails, Notes and more! Also offers one-way music transfer from any iOS device to the computer or directly to iTunes.
Interface and UX: 4/5
A modern and sleek interface with intuitive and well-labelled features.
Cost: 4/5
Free trial with limited functionality. All music playing features are free, and a purchased license unlocks unlimited copies of any kind of content.
A 1-year rental license is available for $30 USD or a lifetime license which can be used on 2 computers for $40 USD.
Editor's comments
This option is highly recommended for users who need to copy more than just music from their iPhone, iPod or iPad. TouchCopy is a complete file management tool which goes above and beyond basic device backups. TouchCopy gives users the power to choose exactly what content to copy, and they can save it to their computer in human-readable formats. Not only can you consolidate music from iOS devices on a computer, but you can save text conversations as PDF, export iPhone call history as a spreadsheet, and so, so much more.
Option 4: MusicBee
MusicBee is a highly regarded and feature-rich music management software. It has many audio controls to enable you to get the most out of your music, and a customizable interface.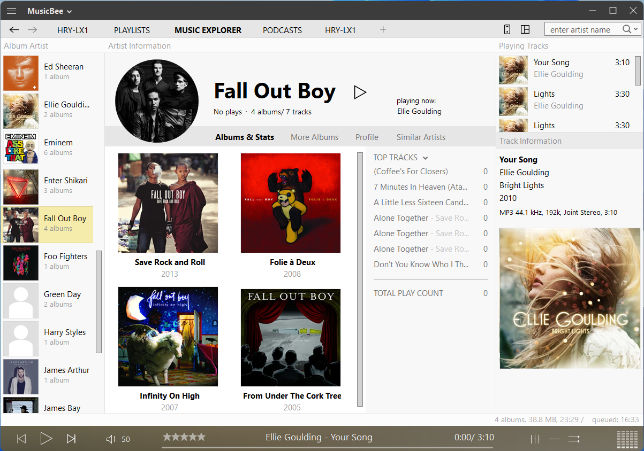 MusicBee key features
Choose what music from your PC to import into your library (use music from Windows Media Library, iTunes, or certain folders).
Stream music from SoundCloud, directly in the app, and even add SoundCloud tracks to playlists.
Device syncing - copy music from PC to a mobile device.
Music Tagging function to fill in any gaps in your library information and album artwork.
Sound quality features including 10-band or 15-band equalizer.
Is MusicBee a good alternative to iTunes?
MusicBee Overall: 3.6

Device Support: 4/5
Supports Windows PCs, all iOS devices (iPods, iPhones, iPads) and click-wheel iPods.
Music Player: 3/5
Plenty of options to help display and manage your music library, including customization to lay out the app just how you want it.
Not possible to play music from a connected mobile device like you can with Waveform, MediaMonkey and TouchCopy.
Media Backup & Transfer: 2/5
Two-way music syncing is claimed by the app; however, we were only able to sync from PC to mobile during testing. Also, users are unable to select which music to sync - users can choose to sync 'All music', 'Random selection', or by playlist.
To copy other media like Messages and Contacts, you'll need to use TouchCopy.
Interface and UX: 4/5
Highly customizable. You can change the panes and features on view in the app, and even the overall theme. However, the app is quite cluttered by default, so many simple features require some searching for.
Cost: 5/5
It's absolutely free.
Editor's comments
MusicBee is a popular and feature-rich music manager designed for Windows users seeking a comprehensive iTunes alternative. We found the interface to be quite cluttered, so many of the cool features took some clicking around to find - however users can take some time customizing the interface to their liking if they wish. Unfortunately, I was only able to sync one-way during testing, but there are many other features to make up for this including music tagging and an extensive equalizer. I particularly enjoyed the SoundCloud integration which allows for adding cloud tracks to local playlists.
Option 5: AIMP
AIMP is a great lightweight audio player and music management software for Windows. It's well-regarded for its simplicity and efficiency. While it may not offer the same comprehensive library management or music transfer features as some other alternatives, it excels in audio playback.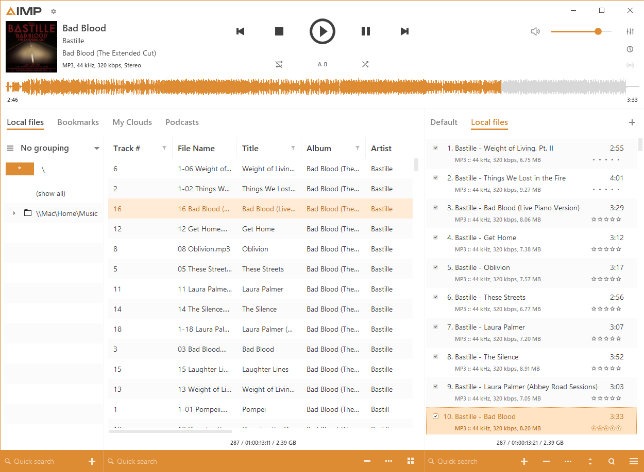 AIMP key features
A choice of layouts (Classic/Standard/Modern), themes and appearance on start.
A plethora of sound quality and playback features include a 20-band equalizer, sound effects (echo, reverb, speed, tempo pitch, etc.), voice remover, volume control and normalization, track mixing, and remove silence.
Manual tagging using ID3v1 and/or ID3v2.
Download lyrics without leaving the app.
Is AIMP a good alternative to iTunes?
AIMP Overall: 3.0

Device Support: 2/5
AIMP is primarily an audio player and does not offer advanced device management features like syncing with mobile devices. It is designed for playing audio files on your Windows PC.
Music Player: 4/5
Upon start-up, the app does not automatically populate your library, or prompt you to import tracks. However, once you have manually imported your desired music, the expected grouping/sorting is readily available, and you can make use of tagging and lyrics downloading features. But the real draw here is the extensive audio playback features.
Media Backup & Transfer: 0/5
AIMP is not intended for music transfers or media syncing with mobile devices. Users looking for these capabilities will need to use additional software for file transfers.
Interface and UX: 4/5
Although the interface is clean and customizable, it is not as intuitive as other apps in the list as there are multiple of the same menu icon which perform different tasks.
Cost: 5/5
It's absolutely free.
Editor's comments
So, the glaring feature omission in this app is the lack of mobile device support - so you can't connect an iPhone to play or copy music to/from it. But if you don't need to sync music between your PC and mobile devices, this music player really packs a punch in terms of audio playback! Between the massive 20-band equalizer and adding effects like reverb and chorus, you can really personalise each track with incredible accuracy. And special mention here to a rare, but really cool feature for karaoke / backing track lovers - toggle "Voice Remover"!
Conclusion
There you have it! The ultimate selection of the best iTunes alternatives for Windows on the market in 2023.
You should now have all the information you need to choose the best method for you. Based on how well each app performs against our criteria set at the top, different methods will be better suited for the requirements of different users.
The best all-rounder is Waveform. We recommend this app for people who generally require an easy-to-use music manager to organize and listen to their library. A perfect balance of simplicity, key features, and great aesthetics.
Users who value a complete, accurate and organized library above all else may prefer MediaMonkey.
For the ultimate iPhone file management tool, you'll need TouchCopy. No other tool gives as much freedom to copy content from iPhone to computer.
The best app for sound quality is MusicBee. Users who crave more control over how their library sounds can take advantage of this app's 15-band equalizer, upmixing and volume scaling.
And finally, AIMP is a high-quality music player for those who don't need any file/music transfer between mobile devices.
A summary of the main features in the top iTunes alternatives:
Features
Waveform
MediaMonkey
TouchCopy
MusicBee
AIMP
OS support
Windows
Windows
Windows, Mac
Windows
Windows
Music importing
Automatic
Guided user selections
Automatic from iOS device
Guided user selections
Manual user selections
Create custom playlists
✔
✔
✘
✔
✔
Playing Music
From PC
✔
✔
✘
✔
✔
From connected iOS
✔
✔
✔
✘
✘
Music Transfer
From PC to iOS
✔
✔
✘
✔
✘
From iOS to PC
✔
✔
✔
✘*
✘
File Transfer from iOS to PC
Photo and Video
✘
✘
✔
✘
✘
Messages & Contacts
✘
✘
✔
✘
✘
Call History and Calendar
✘
✘
✔
✘
✘
Other files
✘
✘
✔
✘
✘
Misc
Download artwork
Automatic
Automatic / Manual
N/A
Manual
Manual
Ease of use
10/10
8/10
9/10
6/10
6/10
User Interface
10/10
7/10
9/10
7/10
6/10
Cost
Free
Free music player (full license cost: $29.95-$59.95)
Free music player (full license cost: $30-$40)
Free
Free
*Claimed to be possible by the app, but did not work during our testing of the app.

Publisher:
Wide Angle Software