How can I Download Missing Tags using Music Tag?
Last Updated : | Wide Angle Software
Summary
To download missing tags using Music Tag, follow these steps...
Download, install and launch Music Tag.
Add the tracks that you wish to obtain tag data for to Music Tag.
Select one or more of the added tracks and click "Download Missing Info".
Review the tags that are downloaded. Music Tag may often find multiple matches for a track and lets you choose which one you wish to use.
Save the changes to the modified tracks before closing Music Tag to save the downloaded tags to the music files.
Download Music Tag Now
Detailed Steps
1 - Download and install Music Tag.
2 - You can drag and drop, or search, for any song you want to tag. If you so wish, you can drag your entire music library.
3 - You can now browse through the files, and see what is tagged, or not.
4 - Select any tracks that are missing tags and click on "Download Missing Info".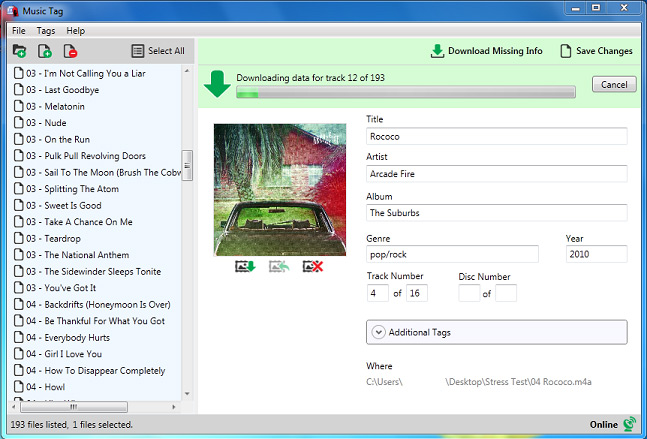 5 - The program will download the data, sometimes giving you more than one result. You can cycle through these by using the top navigation arrows.
6 - You can edit any data you have received.
7 - Be sure to save your changes before you quit.
Be aware that in order to download data and cover art, an active internet connection needs to be available. Music Tag can only save one track if you haven't activated it. Once you purchase and activate Music Tag, there is no limit on the number of tracks that can be tagged.
Tips: If a track has been scanned, but has no data, a message will appear at the top indicating the fact. You can attempt to get better results by providing some more data, namely Artist name, Track name and Album, if you know them.
< Back to Music Tag Support

Publisher:
Wide Angle Software