How to Backup Android Messages to PC




Average:

3.56

(

16

Votes).
Last Updated : | Wide Angle Software

Introduction
As we store more and more precious and personal data on our phones, it's becoming increasingly important to keep that data safe. One of the best things you can do to secure your data is make regular backups. Accidentally deleted a message or conversation? Do you have a new phone which you would like to transfer your messages to? Droid Transfer can help with all of the above, and more!
Copy messages from Android to PC
Droid Transfer can copy and transfer music, messages, photos and more from your Android phone to your PC. Let see how you can back up your messages...
Download and install Droid Transfer (link below)
Connect to your Android Device using the steps shown in our Start Guide.
Click Messages in the features listed in Droid Transfer.
Select which conversations to backup.
Choose to save as HTML, PDF or Text.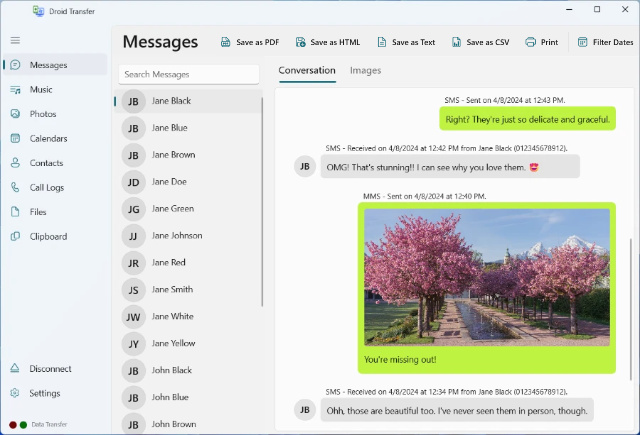 With Droid Transfer, you can back up your messages as HTML, PDF or Text files to your computer. An export or printout will contain important information such as text, attachments, dates, times and contact.
"Save PDF" - Save the selected conversations as Portable Document Format (PDF). The exported file will also display your attachments such as images in the conversation thread (but not videos).
"Save text" - Saves conversations as a simple text file.
"Save HTML" - Save the selected conversations as HTML files (viewable in browsers such as Google Chrome). Media such as images and videos will be embedded in the document, and a separate folder will also be created to contain the media.
You can download the free trial of Droid Transfer below, allowing you to try out the software.
Free Droid Transfer Download

Backup and Restore Android messages
You can also use Droid Transfer to make .mbf backup files of your messages. You can use Droid Transfer to restore these backup files to your Android device if there has been data loss, or even to restore the messages to a new Android device!
In order to gain access to this functionality, you'll need to install a previous version of Droid Transfer and the Transfer Companion app. Check out our full guide on how to backup and restore Android messages.
If you already have the required versions of Droid Transfer and the Transfer Companion app, read on to see how to perform a backup...
Run Droid Transfer 1.34 on your PC and connect to your Android Device running Transfer Companion 2 as described in our Setup Guide.
In the Droid Transfer window on your computer, click the Messages Icon - Droid Transfer will display all of the message conversations on your Android Device.
Click the 'Backup & Restore' button in the toolbar at the top of Droid Transfer on your PC.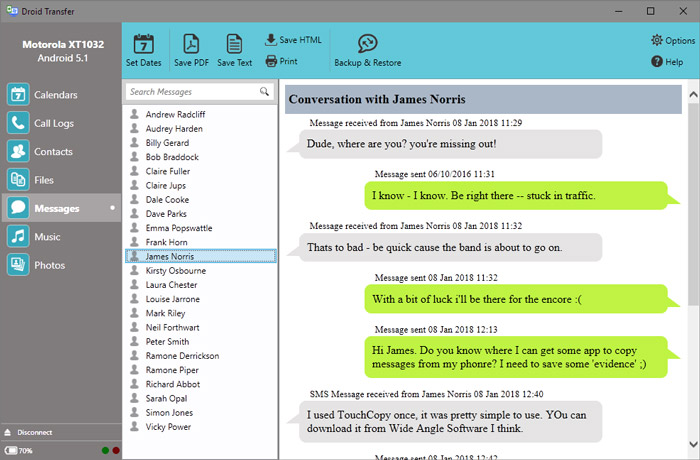 Then hit 'Backup' on the screen that follows.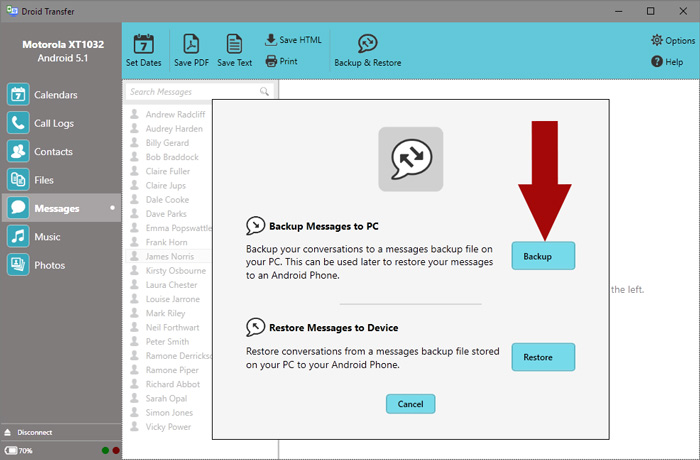 You will then be presented with the option to 'Backup All Conversations' or Backup Selected Conversations. If you choose to backup selected conversations, ensure all required conversations are checked. You can right-click on the conversation list to access 'Include All' and 'Exclude All' options to help with this process.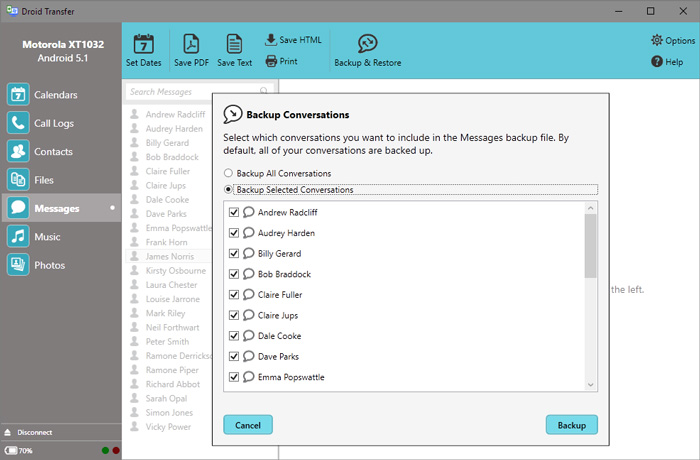 Once you are happy with your selections, click the 'Backup' button.
Finally, you will be presented with the standard Windows screen, allowing you to choose a location on your computer to save your messages to.
The Backup File
The messages will be saved as a '.mbf' (messages backup file). This file is encrypted for security, and so you will not be able to open and view messages in the file. This option is purely for safekeeping of your messages, and it is necessary if you wish to restore messages to your phone, or to a new phone!
Don't forget to like & share with your friends!

Publisher:
Wide Angle Software
Back to Droid Transfer Support