Introduction
Since the Android and iOS platforms are so different, it can be a real pain if you need to transfer content between the two. It's much easier to transfer messages from iPhone to iPhone.
This issue especially comes to light when you need to move text messages from an Android to an iPhone. There is no straightforward way unless you use a specific app to help.
In this article, we will guide you through 3 must-have methods with which you can transfer messages from Android to iPhone, regardless of your situation.
Here are the methods we will cover:
Transfer SMS to a brand-new iPhone with "Move to iOS"
If you are looking for a way to transfer your Android messages into the iPhone Messages app, this is your best bet.
This is the method you'll need to use if you want to open your iPhone Messages app and see all the messages you sent and received on your old Android device.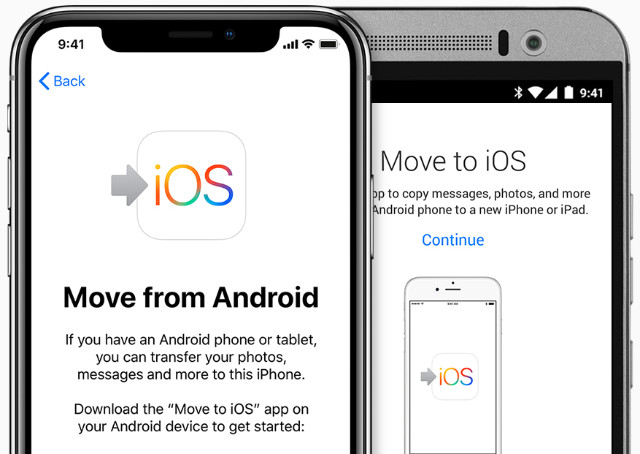 "Move to iOS" is a free app for your Android phone which lets you transfer all kinds of data to your iPhone:
Messages
Contacts
Photos and Videos
Web Browser Bookmarks
eMail Accounts
Calendars
Free apps
The downside for this method is that it can only be used to transfer data to a brand new (or newly reset) iPhone device. To clarify: You cannot use the Move to iOS app if your iPhone has already been set up for use - you must use the app as part of the initial setup of the iPhone.
So, without further ado, let's see how to move your Android messages and other data to iPhone using the Move to iOS app:
Open Google Play Store on your Android device and download the "Move to iOS" app (your device must be using Android 4.0 or higher).
Turn on your new iPhone and begin to follow the set-up steps. You'll be prompted to connect to a Wi-Fi network.
Then, you'll have the option to migrate data from an existing backup or device. Choose "Move Data from Android".

Move data from Android to iPhone (Image source: Apple)

Note the security code displayed on your iPhone.
Open "Move to iOS" on your Android and enter the security code when required.
In the Move to iOS app, choose the data you want to transfer to your iPhone. Ensure that Messages is selected for the purposes of this guide!
Copy messages to an iPhone using Droid Transfer
If you don't need your Messages imported to be useable in your iPhone Messages app, you can archive them for safekeeping!
This way, you can have backups of your important conversations stored in your iPhone memory, on your computer, or in cloud storage like iCloud, Google Drive or Dropbox.
The great thing is, this method allows you to transfer your messages even after your iPhone has been set up!
As you can't archive conversations directly on your Android device, you'll need to use a 3rd-party app. We highly recommend using the Droid Transfer program for Windows PCs to export your messages. Here's how to do it:
Download and install Droid Transfer on your PC.
Get the Transfer Companion app on your Android.
Connect your Android with Droid Transfer using Wi-Fi or USB cable.
Open the Messages section.
Select the conversation/s you wish to back up.
Choose to save as HTML, PDF or Text.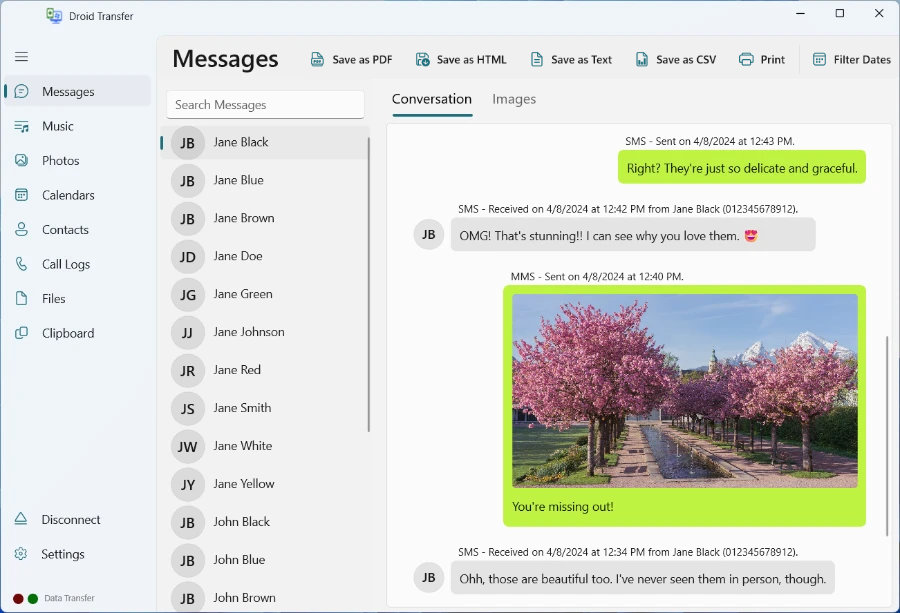 As you can see, it's incredibly easy to export your text messages to computer using Droid Transfer.
Now that your conversations are saved on your computer, you may want to make them accessible on your iPhone. As mentioned, in order to have your conversations as part of the Messages app on iPhone, you'll need to use Method 1. However, if you only need to refer to your archived messages, you can make your exported conversations available for viewing on your iPhone.
Making the text messages viewable on iPhone
There are a number of ways to transfer the exported Android messages to your iPhone, or at least view them on the iPhone.
These methods work best with conversations exported in PDF format. Here are the best options:
Transfer the files to your iPhone storage using iTunes.

Open iTunes and connect your iPhone.
Click your iPhone entry, then click "File Sharing".
Select your iPhone PDF viewer app.
Click "Add file..." and choose your exported PDF!

Upload your exported messages to a cloud service, so that you can access the files on any of your devices. The top cloud storage services include iCloud, Google Drive and Dropbox.

Ensure that you have downloaded and installed your chosen cloud service on both your PC and iPhone.
Log into the service using the same account on each device.
Upload your exported message files to the cloud service.
Once the files are uploaded, you can view them from the corresponding app on your iPhone.

Viewing an exported conversation using Google Drive on iPhone

Email the files from your PC and receive them on your iPhone. To do this, simply include your message files as attachments in an email addressed to yourself. Send the email, then open it on your iPhone to receive your files!
Why use Droid Transfer?
We recommend this program because it has everything you need to be able to export your Android SMS and MMS messages.
Choose which conversations you want to export, set date-ranges to control how many messages are backed up, retain your attached media in the exports - Droid Transfer does it all!
To export your images along with your MMS messages, ensure that you copy as HTML or PDF format. Plain text format will not include your images.
You can also transfer photos, contacts, music and more using Droid Transfer!
The free trial of Droid Transfer allows you to transfer the first 5 messages of your conversations - FREE.
More info on Droid Transfer (messages)

Download Droid Transfer Free
Migrate your WhatsApp account and conversations to iPhone
The methods above are great for if you need to transfer your SMS or MMS conversations - but what about messages sent and received in a third-party app like WhatsApp?
Unfortunately, since Android messaging and iPhone messaging use different formats, it is currently not possible to access messages from WhatsApp on Android, when you move over to WhatsApp on iPhone.
For a guide on how to transfer WhatsApp from Android to Android or iPhone to iPhone, see our WhatsApp migration article.

Publisher:
Wide Angle Software