Introduction
While Android is still the most popular mobile platform worldwide, iOS (iPhones, iPods and older iPads) has been gradually closing the gap for years now.
If you are making the switch from Android to iPhone to see what all the fuss is about, you should know that they are very different platforms. For this reason, it can be difficult to transfer your data from one platform to another.
One such area that you will want to take with you are your Contacts. We have researched, tested and compiled a list of the top 6 ways to transfer contacts from Android to iPhone for you.
Quick jump to any of the 6 contact transfer methods reviewed:
Method 1: Transfer contacts from Android during iPhone setup with "Move to iOS"
The first port of call when switching to an iPhone is to use Apple's own app "Move to iOS".
This free app is great for transferring your Android content to a new iPhone, but there lies its biggest drawback too - this method can only be used when setting up a brand new iPhone.
If you have already completed the setup of your new iPhone, you'll need to use one of the other methods in this guide.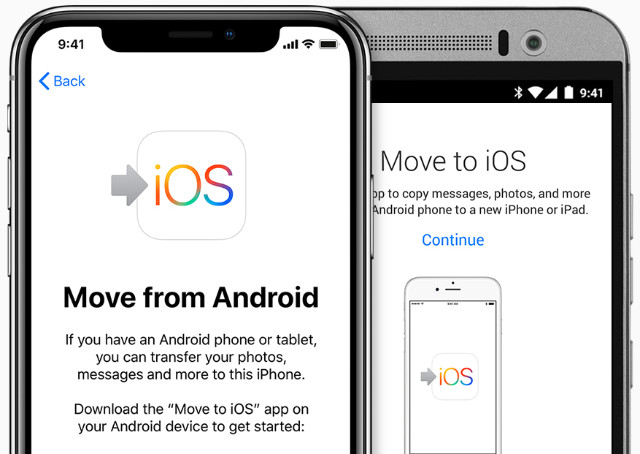 As well as your contacts, Move to iOS can also transfer your messages, camera photos, videos, web bookmarks, email accounts and calendars.
So, let's see how to use 'Move to iOS' to transfer your contacts (and more) from Android to iPhone:
Launch Google Play Store on your Android and download the "Move to iOS" app (your device must be using Android 4.0 or higher).
Grab your new iPhone, turn it on and begin to follow the steps to set it up. Connect to your Wi-Fi network when prompted.
On the "Apps & Data" step, choose "Move Data from Android".
Note the security code displayed on your iPhone.
Open "Move to iOS" on your Android and enter the security code when required.
Choose the data you want to transfer to your iPhone. Ensure that Contacts is selected for the purposes of this guide!
Summary (Move to iOS):
✔ Free
✔ Supports multiple content types
✖ Can only be used during iPhone setup
Method 2: Get your Android contacts by linking your Google account to your iPhone
You can sync your contacts using your Google account and store them in the cloud. This way, you can access your contacts on any device on which you're signed into your Google account.
Let's see how to sync Android contacts with iPhone using your Google account. These steps may vary slightly due to differences in Android versions, and manufacturer modifications on Android versions.
Make sure that your Android contacts are synced with Google.
To do this, go to Settings > Accounts > Google > Sync.
If you get the option to sync certain content, ensure that "Sync Contacts" is enabled.


Now, you can grab your iPhone and open the Settings app.
Scroll down and tap "Passwords & Accounts".
Tap "Add Account" and add your Google account if you haven't already.
Make sure that you enable Contacts when setting up the account.
Once the account is set up on the iPhone, your contacts will begin to appear in the Contacts app on your device.
Summary (Google account):
✔ Free
✔ Access your contacts from any device
✖ Requires storing contacts in the cloud
Method 3: Transfer contacts from Android to iPhone the easy way - Contact Transfer
Our most robust method comes in the form of the Contact Transfer app. This handy tool can effortlessly transfer contacts between your Android, iPhone and Windows devices. You can use the app when setting up a new iPhone, or if you find contacts on another device that you wish to copy to your iPhone.
Contact Transfer is a Windows app that will copy contacts from your Android to your iPhone via your PC; no cloud storage is needed. The app even lets you manage contacts on your device from your PC. You can use it to add, edit and delete contacts - what more could you need?
Here's how to transfer contacts from Android to iPhone via your PC...
Download and install Contact Transfer software on your Windows PC.
To connect your Android device to your PC, you will also need to install the free Contact Transfer Android app from Google Play Store.
On Contact Transfer on the PC, select Android as your Source, and iPhone as your Destination device. Click Continue.

Connect your devices:

Android: open the Contact Transfer app on your Android, tap "Scan Contact Transfer QR Code". Then use your device's camera to scan the QR code shown in Contact Transfer on your computer.
iPhone: use your iPhone's USB cable to connect it with your PC.

Select the contacts you wish to transfer. Or click the All checkbox to select all contacts from your list.

Click Transfer!
Summary (Contact Transfer):
✔ Fast contact transfer between Android and iPhone via a PC
✔ Complete Contact Manager
✖ Transfer 5 contacts free; full version required for unlimited transfers
Method 4: Transfer contacts from Android to iPhone using Droid Transfer on PC
Staying on the idea of PC software, you can't beat Droid Transfer for managing our Android files with your computer. This program for Windows PC offers a plethora of features to aid managing your Android files on your PC.
Using Droid Transfer, you can export contacts to your PC, transfer them to another phone, delete contacts from your phone and loads more!
To transfer contacts from Android to iPhone, we'll need to export contacts to PC, then sync the contacts with iPhone using iTunes:
Export Android contacts to PC
Download Droid Transfer and connect your device using Wi-Fi or USB.
Click Contacts.
Click "Copy Contacts...", then "Copy to Contacts" to export all your contacts to the Windows Contacts app.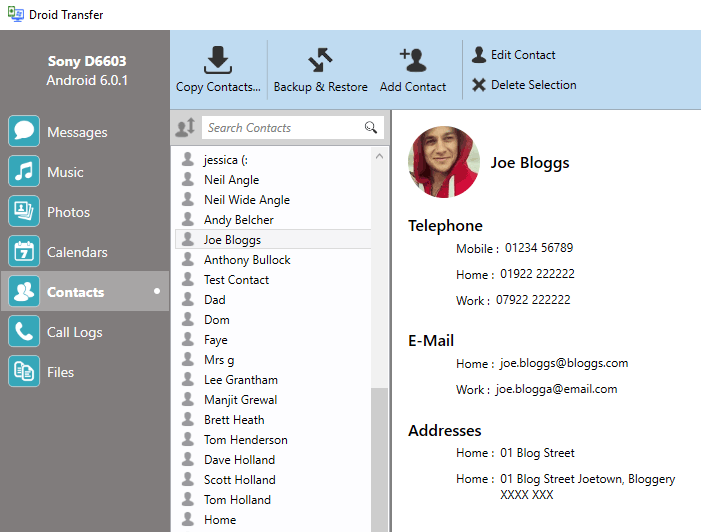 You can copy all contacts by clicking Copy Contacts without making a selection, or clicking a contact, then using ctrl+a on your keyboard.
Alternatively, you can select certain contacts to export, if you don't need to transfer them all to your iPhone.
Once you've exported your contacts, you're ready to sync them with your iPhone...
Sync contacts from PC to iPhone using iTunes
Open iTunes and connect your iPhone.
Click your device icon, then select the Info tab from the list on the left.

Tick "Sync Contacts with" and select "Windows Contacts" from the dropdown options.

Click apply to sync your contacts from Windows Contacts to your iPhone!
Summary (Droid Transfer):
✔ Full contact managing suite
✔ Transfer any content from Android to PC
✖ Requires a purchased licence for use
Method 5: Import contacts to iPhone using your SIM card
If your iPhone can accept the SIM card from your Android device, you can import contacts from it to the iPhone. Before considering this method, find out what type of SIM card your iPhone accepts.
If your SIM will fit in your iPhone, follow the steps below to import your contacts from the SIM to your iPhone. Again, these steps may vary, depending on the make of your phone and the version of Android.
If your contacts are not already saved to your SIM, export them from the Android device.
To do this, open the Contacts app on your Android > open the menu > Tap Import > Select your SIM card.
Insert the SIM into your iPhone.
Go to Settings > Contacts > Import SIM Contacts.
If prompted, choose where to import your contacts to on your iPhone.
Wait for your iPhone to import your SIM contacts.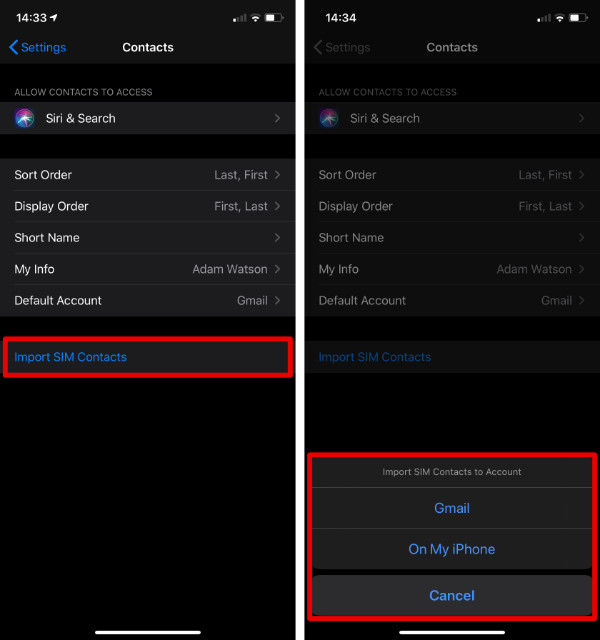 Summary (SIM card):
✔ Free
✔ No need for external services
✖ Requires the correct SIM size
Method 6: Manually export/import contacts as a vCard file
If you don't mind getting your hands a little dirty, you can transfer your contacts manually using a vCard file.
This method involves exporting contacts from your Android, sending the export to your iPhone, then importing the contacts from the file. Easy, right? Let's see how it's done...
Firstly, open the Contacts app on your Android and open the menu.
Choose to Export your contacts and select Internal Storage as the destination.

Once the export is complete, locate the VCF file on your phone (you can search for the file in your Android's file browser if you can't locate it easily).
Tap the menu icon for the file, then choose Share. You can share in several ways, but among the easiest is via email.
Email the file to your own email address.
Now, grab your iPhone and access the email that you just sent. Download the attached file.
Finally, open the file. At this point, your iPhone will prompt you to "Add all contacts" from the file!
Summary (Manually with vCard):
✔ Free
✔ Easy
✖ Requires email account to be set up
Conclusion
As you can see, there are plenty of ways to transfer contacts from Android to iPhone. All that's left to do now is to choose the right method for you.
If you have not yet set up your iPhone, Move to iOS is your best bet.
If you've got a lot of content to transfer from your Android, but your iPhone is already set up, Droid Transfer is the ultimate tool for you.
We hope that you now have all the information you need to smoothly transfer your contacts from Android to iPhone.
Thanks for reading!

Publisher:
Wide Angle Software