How to delete duplicate photos in Google Photos





Average:

4.07

(

46

Votes).
Last Updated : | Wide Angle Software

Walkthrough Steps
Use Duplicate Sweeper to find and remove duplicate pictures stored in your Google Photos storage.
First of all, please ensure that your computer is synced with your Google Drive account. Download and install the Google Drive 'Backup and Sync' app from below.
Download Google Drive Now
The installer will take you through the necessary steps that you need to do to complete the install on your computer. Once the install is complete, the setup Wizard will open automatically. The Wizard will prompt you to enter your Google account information and sync your Drive and Photos with your computer. If the app does not open automatically, you can open it from the small icon in the toolbar in the bottom-right corner of your screen.



At the end of the Wizard, click Done. Google Drive will now be active on your computer, and will have created a folder called Google Drive. This folder will contain all of your synced data from your Google Drive Storage account.



Next, you'll need to access your Google Drive account online at https://drive.google.com/. Click the "Gear" icon on the right hand side of the screen, then click "Settings" from the drop-down. On the settings screen, scroll down and tick the "Automatically put your Google Photos into a folder in My Drive" option. This will ensure that you can access your Google Photos from your Google Drive folder on your PC.


Next, we can launch Duplicate Sweeper to scan your Google Photos for duplicates. Click Add Folder. Locate and select the Google Photos folder within your Google Drive folder. Click OK to add the folder.
Download Duplicate Sweeper
Now click the "Start Duplicate Search" button in the top-right corner of Duplicate Sweeper.
Google Photos remove duplicates- Duplicate Sweeper will now scan the folder and return a list of any duplicate files it has found. Tick the files in each group that you wish to remove, or press the "Keep All Newest Files" to automatically select the oldest files to remove. More selection preferences can be found under the Duplicates tab of the Duplicate Sweeper toolbar.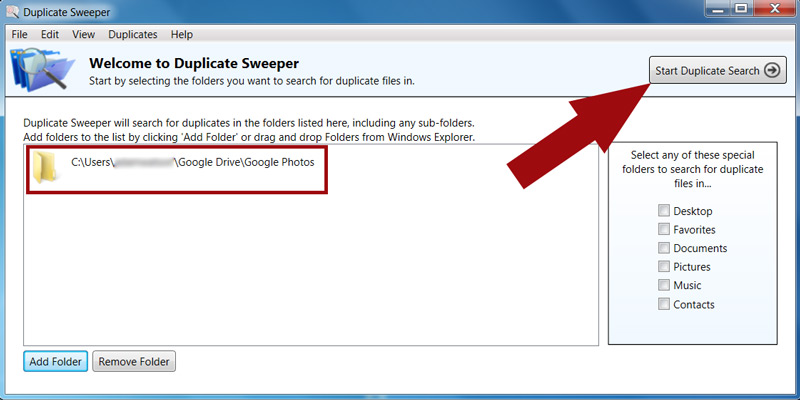 Publisher:
Wide Angle Software
Any questions? Contact our friendly support staff at
Back to Duplicate Sweeper Support