How to Transfer Music from Android to iPhone





Average:

5

(

6

Votes).
Last Updated : | Wide Angle Software
Introduction
If you've recently switched from an Android device to an iPhone, you may be wondering how on earth you can transfer your music from your old device to your new one. Well, help is at hand! This short guide will take you step-by-step through getting your music on your new device.
Summary
To transfer music from your Android phone to your iPhone follow these steps...
Download and install Droid Transfer (link below)
Connect to your Android Device using the steps shown in our Start Guide.
Click "Music" in the features listed in Droid Transfer.
Hit the "Sync iTunes" button.
To transfer tracks from your Android device which are not already in iTunes, click "Copy Tracks to iTunes".
Once your tracks have been copied to your iTunes library, you can close Droid Transfer and safely disconnect your Android device.
Open iTunes and connect your iPhone.
Select the songs from your iTunes library that you wish to have on your iPhone, and simply drag into your device tab!
Download the free trial version of Droid Transfer...
Free Droid Transfer Download
Detailed Steps
Launch Droid Transfer on your PC and connect to your Android Device running Transfer Companion as described in our Setup Guide.
Once your device is connected with Droid Transfer, click the Music tab in the Droid Transfer app on your computer. This will list all of the music on your Android device.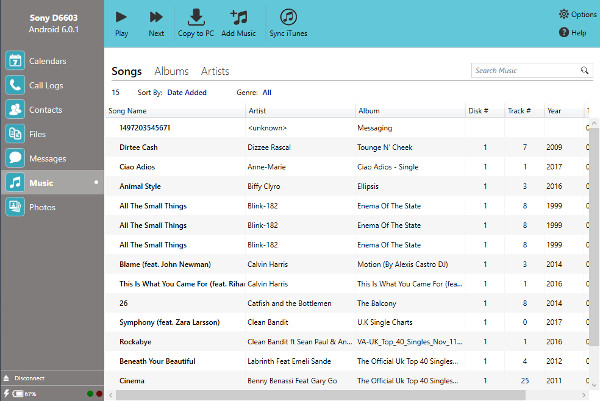 Next, you'll need to transfer this music to your iTunes library on your computer. To do this, simply hit the "Sync iTunes" button. Droid Transfer will then let you know how many tracks on your Android device are not yet in your iTunes library (and also how many tracks are in iTunes which you don't have on your Android device).
For the goal of this tutorial, click the first option - "Copy tracks to iTunes".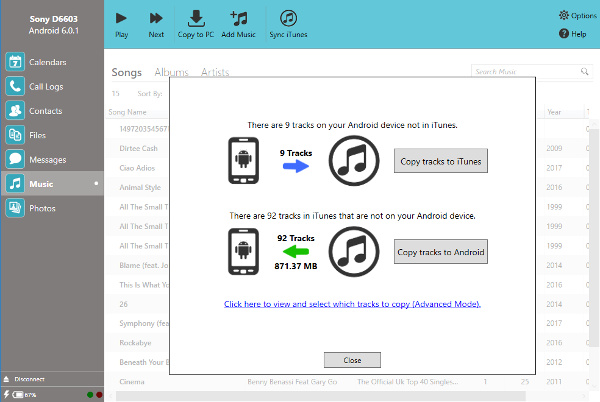 Once iTunes has been populated with the tracks from your Android device, we are ready to copy the music to your iPhone! You can now close Droid Transfer, and safely eject your Android phone from your computer.
Almost there! Open up iTunes, and connect your iPhone using your USB cable.
From your iTunes music library, select any music that you'd like to be available on your iPhone (you can select multiple tracks by using the ctrl-click combination).Once you've made your selection, click and hold on one of the selected tracks, and drag the selection into where your device shows in iTunes. This process can be seen in the image below.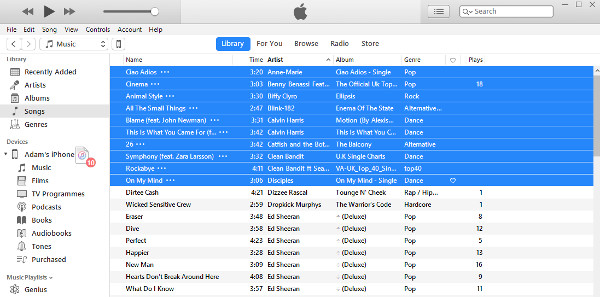 And there we have it, we have transferred music from your Android device to your iPhone!
Don't forget to like & share with your friends!

Publisher:
Wide Angle Software
Any questions? Contact our friendly support staff at
Back to Droid Transfer Support