Introduction
If you use Google Play Music, you should be now have been notified that the platform is shutting down as part of Google's migration process. As such, from September through December 2020, people will lose access to Google Play Music.
This means that if you don't take action, your data, purchased music and uploaded music on the platform will be lost.
But don't worry! This guide will show you 3 easy ways to migrate, save or transfer your music from Google Play Music to a destination which suits you. Have a look through each method, or skip to the one which takes your fancy:
Migrate to YouTube Music
If you are happy to follow Google's migration plan, they have made it easy for you to transfer from the Google Play Music app to the YouTube Music app.
To make the switch, you can either go to the YouTube Music website and click "Transfer", or get the YouTube Music app on your phone and follow the steps below:
Open the YouTube Music app on your device and Sign In if you haven't already.
Tap your profile image in the top-right corner of the screen.

Then tap Settings > Transfer from Google Play Music.
Save to your computer with Google Takeout
If you don't want to switch to YouTube Music, that's fine. You can export all your Google Play Music data, purchased music and uploaded music to your computer using Google Takeout.
Google Takeout is a tool created by Google which allows you to export or back up any of your Google Account data.
To access and export your Google Account information to your computer, follow the steps below:
Visit the Google Takeout web tool.
Select the information types that you would like to export. For the purposes of this guide, ensure that "Google Play Music" is checked.

Scroll to the bottom of the page and click "Next Step".
Here, you will choose:

Delivery Method: how you want to receive your export (you can receive an email, or save to a platform like Google Drive or Dropbox).
Frequency: how often you would like to receive an export of your selected data types.
File Type and Size.

Click "Create Export".
Using this method, you can export all our Playlists, Radio Stations and Tracks as CSV files, and our music as MP3 files.
Transfer Music from Android to iTunes
You can also transfer your downloaded tracks from your Android device to your PC or straight into your iTunes library using Droid Transfer.
Droid Transfer is a program for Windows PC which allows you to view and copy music and other files between your Android device and your computer.
In order for Droid Transfer to be able to copy your Google Play Music, you'll firstly need to make sure it's downloaded to the device, rather than stored in the cloud. To download music in Google Play Music to your Android, tap the 3 dots next to an album, then tap Download.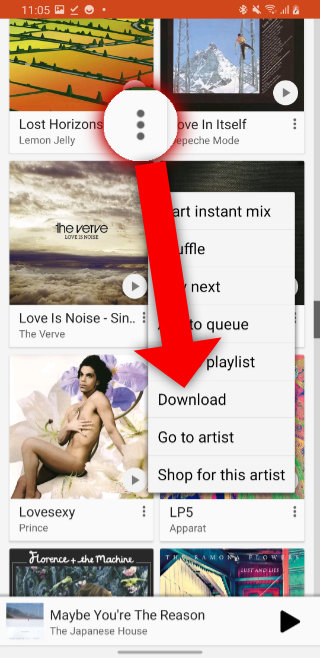 Now let's see how to transfer your downloaded Google Play music from Android to iTunes...
Download Droid Transfer on your PC and the free Transfer Companion app on your Android.
Launch Droid Transfer and follow the on-screen steps to connect your Android via USB or Wi-Fi.
Click Music to view all music downloaded to your device.

Click "Sync iTunes". Droid Transfer will show you what music you have on your Android, but which is not part of your iTunes library. It will also show you which music you have in iTunes which is not on your Android.

Click "Copy tracks to iTunes" to copy your music from Android to iTunes!
With the free download of Droid Transfer, you can copy up to 100 music tracks, free! What else can I do with the free download?
As you can see, you can also do the reverse - syncing music from iTunes to Android! This operation is not available in iTunes itself, so it can be very valuable for people wanting to use both iTunes and Android.
Takeaways
So, there you have it. Make sure that you don't lose your music collection when Google Play Music is discontinued. Transfer your music to the YouTube Music app, or export it to your computer. If you use iTunes, you can use Droid Transfer to copy any Google Play Music downloaded to your Android to your PC or directly to iTunes.

Publisher:
Wide Angle Software