If Contact Transfer is not displaying your contacts, how to download them from iCloud to iPhone storage.
Last Updated : | Wide Angle Software
Introduction
Storing your Contacts in iCloud is a great way to save some space on your iPhone. When you do this, the contacts are no longer stored on the device itself. You can access your contacts from your iPhone, but they are actually stored online in your iCloud storage space.
This guide will show you how to download your iCloud contacts back to your iPhone, , whether it be for security reasons, or to enable you to transfer your contacts to another device through an app like Contact Transfer.
If you have not done so already, you can download Contact Transfer from here:
Download Contact Transfer Now
How to download contacts from iCloud to your iPhone
You can do this using your iPhone itself - this is how it's done...
Grab your iPhone and open the Settings app.
Tap your name from the top of the list, then tap iCloud.

Next, tap the toggle next to Contacts to disable iCloud Contacts.
When asked what you'd like to do with contacts on your iPhone, choose "Keep on My iPhone".


Your iPhone will now download the contacts from iCloud.
Once your contacts have been downloaded from iCloud, they are stored in the iPhone itself. This means that you can use Contact Transfer on your PC to copy the contacts to your PC, an Android device or another iPhone.
Some of my contacts are still not showing in Contact Transfer
If there are contacts that you see in your iPhone Contacts app, but which do not appear in Contact Transfer, it is likely that they are stored in a different account's cloud service like Gmail. As mentioned, Contact Transfer will be unable to access contacts which are stored online in cloud storage.
To find out which accounts your contacts are stored in, you can filter the contacts on your iPhone by account. To do this, open the Contacts app on your iPhone, then tap "Groups" at the top.
You can tap the accounts listed on this page to show/hide their contacts in your contacts app. The blue tick next to an account means that the contacts stored in the account are being shown in the Contacts app. Once your desired accounts are selected, tap Done.
By hiding all but Gmail contacts as seen in the screenshot below, we can see which contacts are stored in Gmail and so will not be able to be copied by Contact Transfer.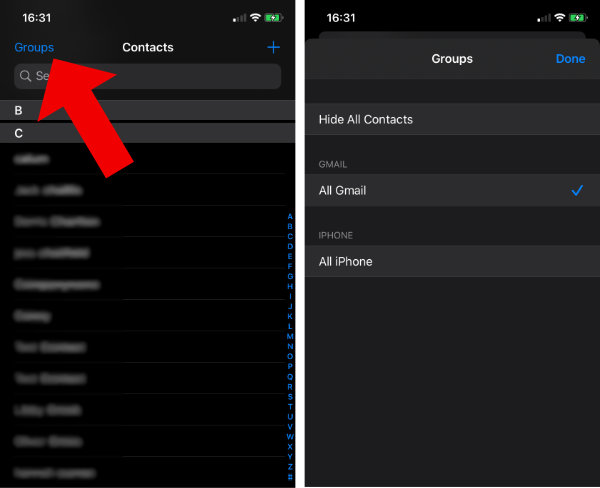 < Back to Contact Transfer Support

Publisher:
Wide Angle Software