Edit Contacts on Android or iPhone from your PC
To manage a device's contacts, launch Contact Transfer and click the "Add & Edit" option in the feature bar to the left of the program. The menu may be minimized - in which case, this option can be seen as a 'pencil' icon.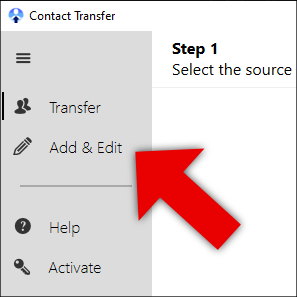 Select either "Android" or "iOS Device", depending on what kind of device you wish to manage. Then, connect your Android or iOS device.
Edit Contacts
Editing your existing iPhone contacts in Contact Transfer follows a similar procedure to creating new ones. Here's how it's done...
Click a contact from the list to select them in Contact Transfer and view their details.
Edit any of the items in the form by clicking inside them and updating the information. To add new fields for multiple addresses and telephone numbers, click the "+" icon next to the corresponding field.

Once you have completed your desired updates to the chosen contact, click "Save Changes". This will save the changes and update the contact on your iPhone itself.
Clicking "Discard Changes" will revert the contact to its state before you started editing, and any unsaved changes will be lost.