Add New Contacts to Android or iPhone from your PC
Contact Transfer is a great way to manage all of your device's contacts from a single central location - your PC.
With the easy-to-use tool, you can not only transfer contacts from device to device, you can also create new contacts, edit your exiting contacts, and delete contacts in bulk!
To manage a device's contacts, launch Contact Transfer and click the "Add & Edit" option in the feature bar to the left of the program. The menu may be minimized - in which case, this option can be seen as a 'pencil' icon.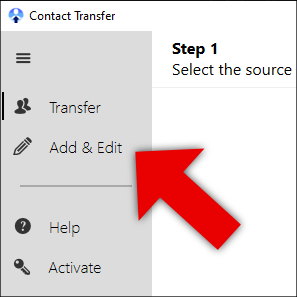 Select either "Android" or "iOS Device", depending on what kind of device you wish to manage. Then, connect your Android or iOS device.
Create New Contacts
Adding new contacts to your iPhone, iPod or iPad has never been easier. Follow the steps below to create a new contact, fill in the contact's details and save the entry directly on your iPhone.
Click the "New Contact" button in the top-right corner of Contact Transfer.

Complete the form to populate your new contact's details. You can use the "+" icon to add new entries for information like phone numbers and addresses.

To save your new information, click "Save Changes". This will add the new contact to your device!
You can now find your new contact in the "Contacts" app on your iPhone!
Clicking "Discard Changes" will cancel the creation of the contact, and any unsaved details will be lost.