Introduction
macOS Catalina is the latest version of Apple's prestigious operating system. The update (version number 10.15) was released on October 7th 2019 and shows off a number of big changes that Apple has been cooking up over the last year. We're going to cover some of the biggest new features of the update in this article, so buckle up.
Our existing users of TouchCopy will be pleased to know that the software has been updated to provide full compatibility with macOS Catalina. For people who are new to the software, TouchCopy is a handy piece of software which allows the transfer of files from iPhone to Mac.
Quick Jump to...
How to upgrade to macOS Catalina
Before upgrading your Mac or MacBook's operating system, Apple recommends performing a couple of steps to ensure a smooth and safe upgrade. Check out Apple's guide to find out how to check system requirements, backup your files and install the update.
Fun Fact: macOS Catalina is named after Santa Catalina Island, situated off the coast of southern California. This follows Apple's convention for naming updates after Californian landmarks.
New Apps and Features
Catalina is bursting with new apps and features, and we'll touch on a few of the big ones here:
Bye bye iTunes... iTunes has been split into 3 new apps on macOS. Apple Music, Apple Podcasts and Apple TV will now be your go-to apps for managing your entertainment media.

The apps will automatically be populated with the music, podcasts and TV shows that were stored in iTunes, so you won't have to worry about migrating your files manually to the new apps.

No changes have been made to iTunes on Windows computers.

Apple Arcade: Apple's new subscription gaming service Apple Arcade offers unlimited access to a fairly large selection of games. The $4.99 monthly subscription allows users to play games on iPhone, iPad, iPod touch and Apple TV. You can even start a game on iPhone, and pick up where you left off on Apple TV when you get home.

They have even considered you hardcore console gamers, with many games supporting Xbox and PlayStation controllers!

Sidecar (I love the name of this feature!): If you are lucky enough to own an iPad as well as a Mac, you can now use the iPad as a second display! This really opens up your work station to new possibilities.

Sidecar support both wired and wireless connections, so whether you need to charge your iPad and home, or set up both displays on the go, you're covered.

If you can multitask, access different windows or applications on each device, rather than switching between windows on one screen. Or if you're creative use the iPad with an Apple Pencil for greater control when using apps like Photoshop.

Accessibility: Rightly so, there is more emphasis today on making sure services are usable by everybody, than ever before. Apple have obviously strived to achieve higher levels of accessibility for their users in Catalina.

Voice Control: Create and edit text using only your voice (via the power of Siri). You can even navigate and interact with apps using your voice using numbers and grids.

From sound to sight, features like Hover Text and Zoom Display make navigating websites and apps easier for vision-impaired users.

For a run down of other features, check out Apple's Catalina release page.
How to use your iPhone with Catalina
Since the main interfacing method between iPhone and Mac has gone (iTunes), how do you use iPhone with Catalina? It's actually a simple change once you know where to look.
As covered in the new features above, you can find your iPhone Music, Podcasts, and TV in their respective new apps when your iPhone is connected.
Making backups of your iPhone used to be done in iTunes. You can now find the same backup interface by connecting your iPhone to the Mac, then clicking on your device in Finder (you can find the device under the 'Locations' header in Finder). Remember that you can't access your backed up data on your Mac though - if you want to transfer files from iPhone to Mac, you'll need a third-party software like TouchCopy.
Here you'll find device information, backup preferences, in addition to multiple tabs that you can use for syncing Music, Films, TV, Podcasts, Audiobooks, Books, Photos, Files, Contacts and Calendars between your Mac and iPhone.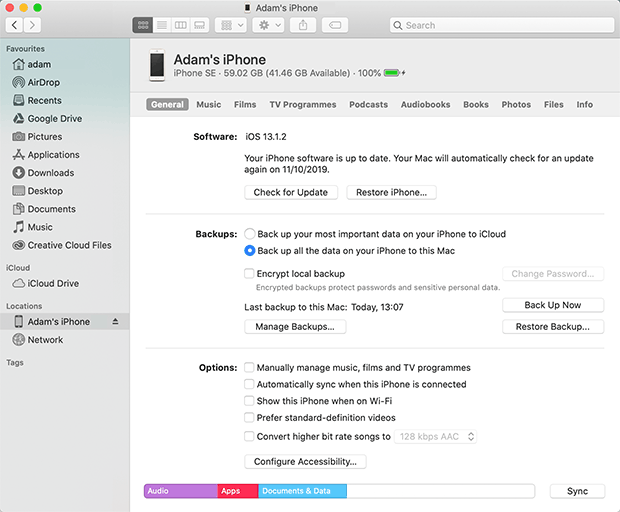 Transfer iPhone music to the new Music App
To transfer music stored on an iPhone to the Music app, you'll need a 3rd party tool to help you.
We recommend using TouchCopy to copy music from iPhone to Mac, as it is fast, efficient and easy to use.
Check out our guide on how to copy music from iPhone to Music app >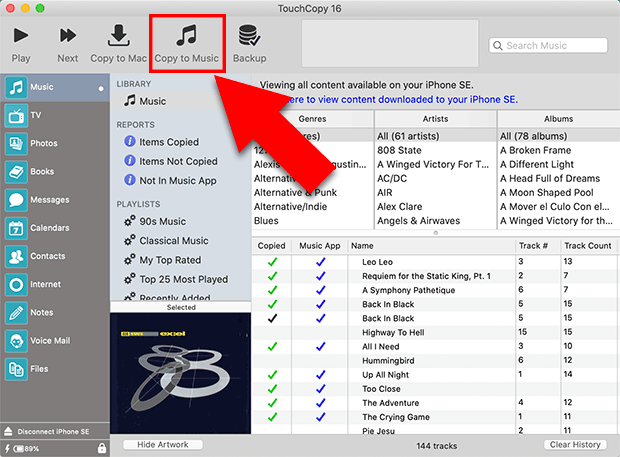 TouchCopy is available as a free download, so you can try it and copy up to 100 tracks completely free of charge.

Free TouchCopy Download

Buy TouchCopy now

Buy TouchCopy now
Takeaways
As you can see, there have been some major shake-ups in the world of macOS with the introduction of Catalina - perhaps the most notable being the removal of iTunes. Will we see this change reflected on Windows in the future?
Manage your entertainment media in the new Music, Podcast and TV apps.
Backup your iPhone from Finder.
Consider using TouchCopy for transferring iPhone files to Mac.
Subscribe to Apple Arcade for unlimited gaming across your Apple devices.
Enjoy new accessibility features.

Publisher:
Wide Angle Software