Introduction
Contacts are vital little nuggets of information which are often overlooked. They are used in a variety of different apps including when you send emails in Outlook or Gmail, when you make a call or send a message to a friend or client, and even when you are using a satnav to travel to a contact's address.
The point is, that it is important to have your contacts to hand wherever you are and whatever device or service you are using. The problem is that it is difficult to know how to gain access to your contacts across those multiple platforms and services. For example, you have a contact who you have been emailing in Outlook, but you now need to call them from your Android device, but don't have their number on the mobile.
For this reason, we've broken down exactly how to sync contacts between popular email management app Outlook and your Android devices.
Here are the three contact transfer methods reviewed:
1. Sync contacts using the Outlook app on Android
The Outlook app for Android is a great way to access your Outlook account on the go. If you've not yet got it, you can download Outlook for Android here.
Once you've signed in with your account, you can manage your email, calendar and contacts from within the Outlook app. For the purposes of this guide, you can also sync your Outlook contacts from your Outlook account to your Android device using the app!
First of all, you'll need to give Outlook permission to access your Contacts - this prevents Outlook contacts not syncing with Android. Once permissions have been given, you can sync your contacts to make them available in the Contacts app on your Android.
Here's how to sync Outlook contacts to Android...
Open the Settings app on your Android device and tap Apps (or Applications).
Find and tap "Outlook" from the list.

Tap Permissions > Contacts > Allow.

Now that Permissions have been given, you can sync Outlook contacts to Android. To do this, open the Outlook app on your Android device.
Tap the Microsoft Office icon in the top-left corner of the screen, then tap the gear icon to access Settings.

Select the Outlook account you want to copy contacts from.
Tap "Sync Contacts"!

You'll now be able to see your Outlook contacts in the default Contacts app on your Android device!
2. Copy contacts from Android to Outlook without syncing
So now you know how to sync contacts from Outlook to Android, but what about the reverse direction?
If you like to avoid syncing your information between accounts and devices, you're not alone. Whether it's through fear of losing important information, or being protective of your privacy, syncing may simply be off the cards.
Luckily, with the Droid Transfer app, you can take manual control of your contacts, and copy the contacts you need to the location you need them.
This means that, conversely to Method 1, you can choose to copy only select contacts, rather than having no choice but to copy your entire list of contacts!
Here's how to copy contacts from your Android device to Microsoft Outlook on your PC:
Download Droid Transfer on your PC and launch it.
Get the free Transfer Companion App on your Android device.
Using Transfer Companion on your Android, scan the QR code in Droid Transfer to connect PC and Android using Wi-Fi.
Click "Contacts" to view the contacts stored on your Android.

Select the contacts you wish to copy, or use ctrl+A on your keyboard to select all contacts in the list.
Click "Copy Contacts..." then choose "Copy to Outlook".

Droid Transfer will then copy your selected contacts to Microsoft Outlook on your PC!
You can even copy your Android contacts to your PC as vCard or CSV, or back up contacts and restore them on another device! Find out more about copying contacts with Droid Transfer >
3. Export Outlook contacts for use with Gmail on Android
Gmail is a popular email service whose app comes preloaded on many Android devices - the service boasts more than 1.8 billion active users.
If you too use Gmail to fulfil your email-management needs, you'll want to ensure that all your important contacts are available within the app.
Although you can't set up automatic syncing between Outlook and Gmail, you can export your Contacts from Outlook, and then import them into other services like Gmail.
Here's how to export Outlook contacts to your PC...
Open Outlook on your PC.
Click File > Open & Export > Import/Export.

Choose Export to a file, then click Next.

Select Comma Separated Values (.csv).

On the "Export to a File" window, select the "Contacts" folder under the account you wish to export contacts FROM, then hit Next.

Name your export file and click OK.
Choose the location on your PC that you would like to save your contacts file to. Click Next.
Click Finish to start exporting!
Once you have your Outlook contacts saved on your PC as a CSV file, you can import them into a different email/contact manager like Gmail.
Here's how to import contacts into Gmail...
Go to https://contacts.google.com/ in your internet browser on your PC.
If you are not signed in already in your browser, sign into the Google Account you want to import your Outlook contacts to.
In the menu on the left side of your screen, click Import.
Click Select File > select your exported outlook contacts csv file > click Open.
Click Import to begin importing your contacts from the CSV to your Google account.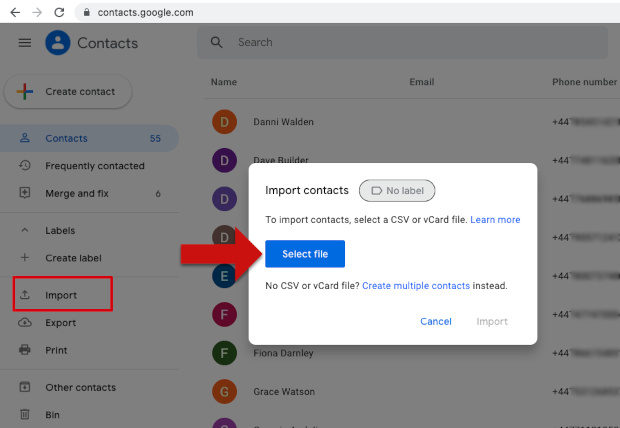 Once your Google account has been populated with your Outlook contacts, you can sync those contacts to save them to your Android device itself.
Here's how to sync Gmail contacts to Android...
Open Settings on your Android device, then select Accounts.
Tap the Google account which you just imported contacts to.
Tap "Sync Contacts" for this account.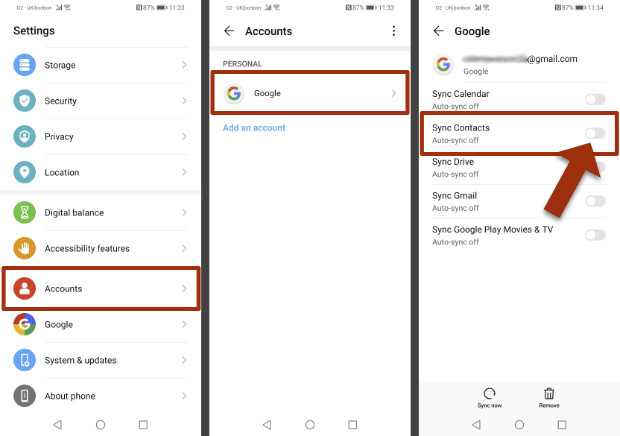 Import Gmail contacts from Android into Outlook on PC
As mentioned, the Gmail app is installed by default on many Android devices, as such, this may be your preferred email app.
However, if you need to use Outlook as well, especially on a computer for business purposes, you may wish to have access to your Gmail contacts in Outlook.
If you've followed this guide through from the top, you'll already have gained the knowledge needed to accomplish this - however, we'll briefly go through the steps below for if you have jumped straight to this section:
Copy contacts from your Gmail account to your Android: Open Settings > Accounts > select your Google account containing your contacts > tap "Sync Contacts".
Once your Gmail contacts are saved to your Android, you can launch Droid Transfer on your PC, and the Transfer Companion app on your Android device (jump back to the full section about using Droid Transfer to copy Android contacts to Outlook)
Connect the Android with Droid Transfer using a USB cable or Wi-Fi connection.
Open the Contacts section in Droid Transfer and select the contacts you wish to copy.
Click "Copy Contacts..." then "Copy to Outlook". And your selected contacts will be saved to your Outlook account on your PC!
Thanks for reading!

Publisher:
Wide Angle Software