What's wrong with duplicate files?
As you've found this article, it's likely that your system has become clogged up with numerous duplicate files. Such files can rapidly eat up valuable storage space on your PC, leaving no room to store files and apps that you actually want to use. You may have also noticed that this clutter has slowed down your PC.
This guide covers how to find and remove duplicate files from your PC, but you can check out our other guide for more ways on how to free up space on your computer.
How do I remove the duplicate files, then?
Unfortunately, finding and clearing out your duplicates isn't a straightforward process. As Windows doesn't provide a built-in way to process duplicate files, you have 2 options:
Do it manually. Sift through all your folders by hand, select what you believe to be a duplicate of a file, and delete it. This method cannot accurately identify exact duplicates without close examination, and is extremely time-consuming.
Get an app to do it for you. There are a number of helpful apps which can quickly and accurately scan your computer for duplicate files, and remove the files for you. This will save you a lot of time and headache!
We've saved you some legwork by testing many of the top Duplicate Finder apps available on Microsoft Store, and we've narrowed down the sea of apps to these top picks.
Quick jump to any of the 6 duplicate finder apps reviewed:
Criteria: What to look for in a duplicate sweeper app?
Conclusion: Direct comparison of all top Duplicate Finder apps
Option 1: Duplicate Sweeper
Duplicate Sweeper is a fantastic tool to use when sorting duplicate files with a simple UI and great filtering options (choose to search for duplicates by file type or file size).
One huge highlight is the ability to scan any manner of drive, allowing you to find and remove duplicates within Google Drive, OneDrive, iCloud Drive, External Drives as well as the local drives on your PC.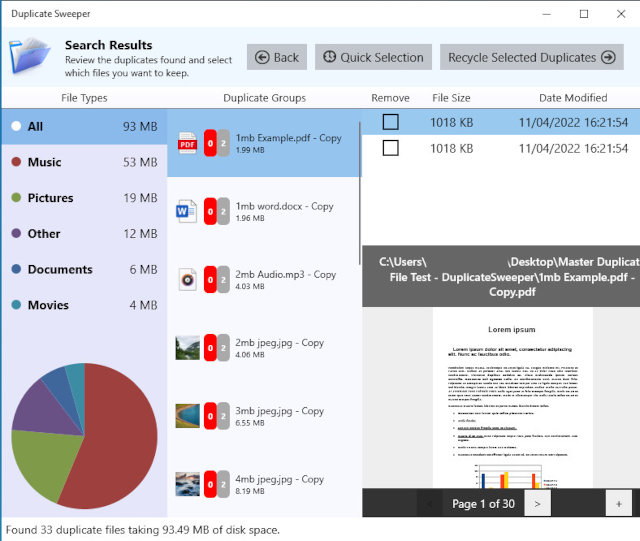 Pros
Perfect balance between ease-of-use and number of features
Quickly & accurately scan your local PC, external drives, and cloud drives
Automatically mark files to delete based on your preference (keep newest/oldest file out of a group of duplicates)
Fantastic previewing of selected files; and option to move duplicates to a specific folder on your PC or directly to Recycle Bin.
Comprehensive user guide and exceptional customer support
Great value for money
Cons
Scan your drives for free, but license required to delete duplicates
Option 2: Duplicate Cleaner (Free/Pro)
Duplicate Cleaner is software with a user-friendly interface, adopting left-to-right system with its tabs. Despite this, advanced filters can become confusing due to the sheer volume of them. Overall, this is a useful tool to remove duplicate files.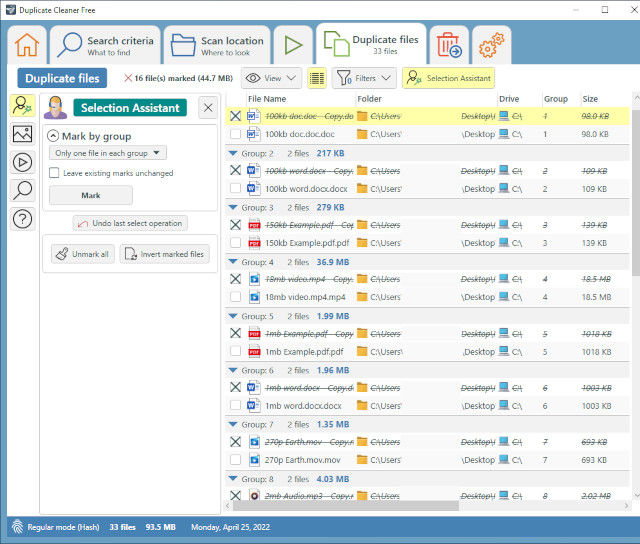 Pros
Plenty of Filtering Options which allows you to specify exactly what kind of duplicates you are looking for. Search by: File types, File size, Ignore empty files, Date, Same content/ignore content
Selection Assistant tool is a handy way to select duplicates found
Has a smart interface, which makes the software very easy to navigate left to right
Cons
Advanced Filtering can be confusing
Expensive one-time purchase
Not able to preview files before deletion
Option 3: Free Duplicate Finder
A great budget option. While it has a basic interface, it is very clear to understand and filter your preferences. Let down by the lack of previews for files as thumbnails are small. On the whole an effective app.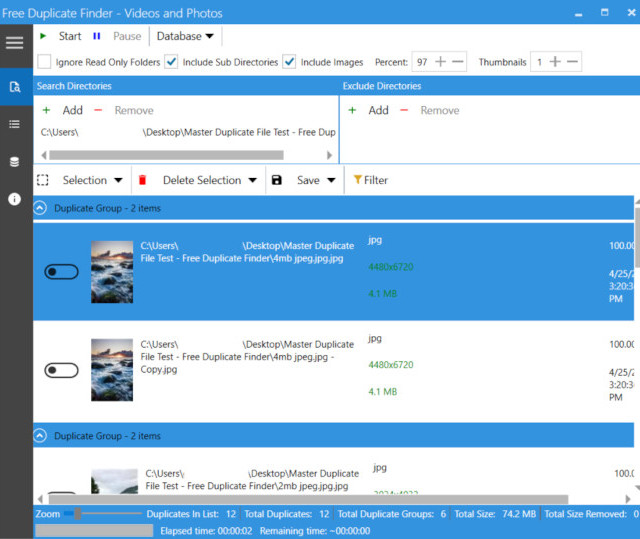 Pros
Fast scanning speed and rescan
Some great search filters: Read-only folder, Sub directories, Include images, % Match, Exclude directories
Finds videos and image duplicates based on similarity (different resolution, framerate and even watermarked)
It's free!
Cons
Only supports Image and Video file types
Small thumbnails for file previews can be unhelpful
Option 4: Duplicates Cleaner (Free/Prime)
Duplicates Cleaner is a basic duplicate remover which finds and removes files easily with no problems. The main downside to the app is that you cannot scan a whole folder without upgrading to Prime, meaning you have to individually look for Image/Audio/Video/Document files.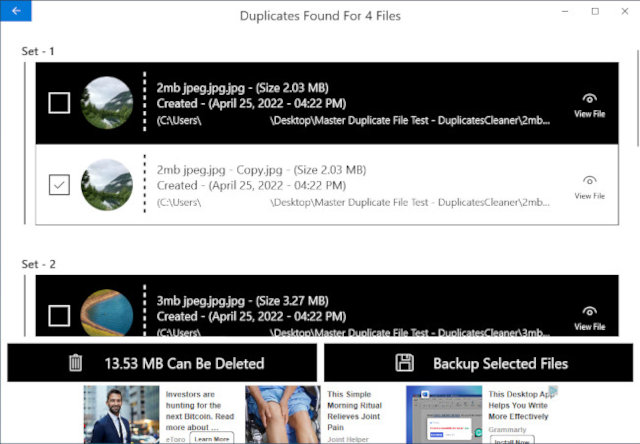 Pros
Basic features and clear interface make the app easy to understand
Cons
Trial limited to scanning individual media types
Upgrade needed for full features (and to remove ads)
No search filtering
No file previews
Option 5: Real PC Cleaner
Definitely the simplest app to use and provides well-sized previews despite low quality. Unfortunately, you cannot filter which files you would like to see, add to this the lack of auto-selection of files to delete, it is a solid, yet limited app.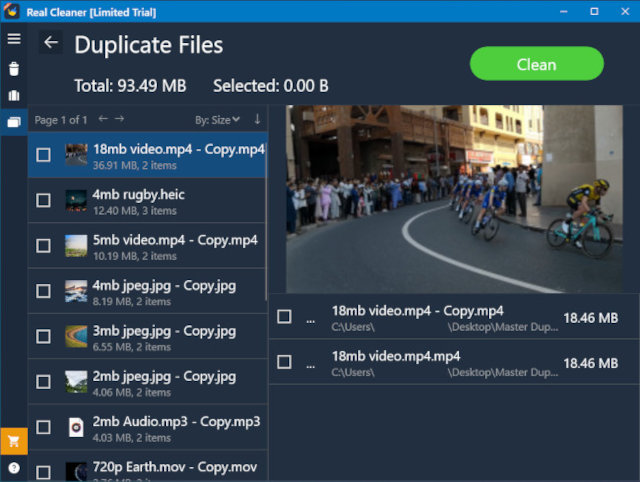 Pros
Great interface which shows large previews of selected files to delete
Simple to use
Extra features: Junk/cache cleaner, Large file cleaner
Cons
Inability to provide search filtering
No automatic removal selections - you'll have to manually select the duplicates you wish to remove
Option 6: Duplicate File Remover
Easy to use software, but it struggles massively when sorting duplicates. No filtering or preview also lets the app down. Doesn't even pick up document files for sorting. Possibly the most disappointing of products tested, despite its ability to pick up a couple of photos from a burst as duplicates.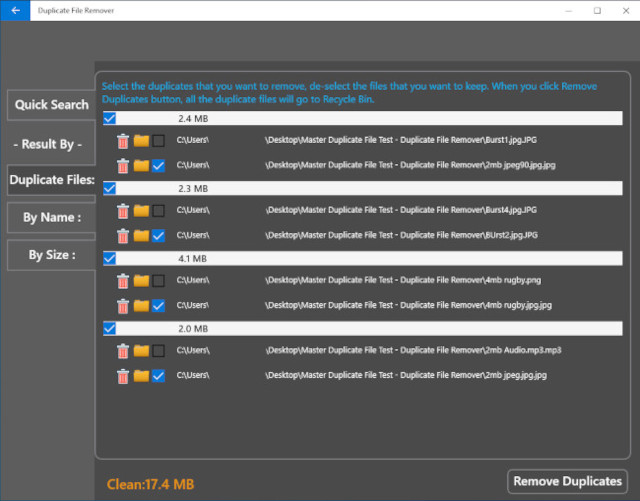 Pros
Straightforward search by Folder or File
Cons
No automatic selection of duplicates to remove - you'll need to mark each file manually
No search filters
Lacks the ability to preview selected files
Will not find duplicates document files (PDF, DOC, DOCX, etc.)
Duplicate Finder apps - Desired Features
So, what should you look for in a duplicate finding app? Here are the top aspects to consider when evaluating which app you should use to clear your Windows computer of duplicates:
Ease of use Clearly marked buttons and intuitive features make an app easy to use for all levels of technical confidence.
Interface An app is only as good as its interface. A good-looking, clear, and easy to navigate view is what you're looking for here.
Price As a rule of thumb, you get what you pay for. Some apps are free to use and are supported by revenues from displaying ads within the app;
some are subscription-based, requiring a monthly/yearly fee to access;
and some are one-time payments that you can purchase a license for, and keep for as long as you like.
File Types The more file types supported, the more efficiently you'll be able to sweep your computer for duplicates. An app which only supports image files, for example, would not be able to clear your drive of duplicate videos, audio, documents and more.
Search Fitering Adding criteria to narrow down your search to return the files you need.
Selection of duplicates to remove The ability to quickly select the files you want to remove after you've found a big list of duplicates on your PC. Many apps will automatically mark duplicates to delete based on criteria you set as the user.
Strictness Does the app find exact duplicates, or does it also show you files which are very similar to each other?
File previews Are you able to see visuals of your selected duplicate files before choosing to delete them, or only the file names?
External Drive support The ability to scan external drive folders for replicated files, and remove them.
Cloud Drive support The ability to scan cloud drive folders, like OneDrive and Google Drive for replicated files, and remove them.
Technical support If you get stuck, is there any helpful documentation or customer support?
Adverts The display of adverts can be a make-or-break consideration. Many free apps show ads which can get in the way or are a general annoyance.
Comparison of features in the top duplicate finder apps
| Features | Duplicate Sweeper | Duplicate Cleaner | Free Duplicate Finder | Duplicates Cleaner | Real PC Cleaner | Duplicate File Remover |
| --- | --- | --- | --- | --- | --- | --- |
| Ease of use | 5⭑ | 3⭑ | 4⭑ | 2⭑ | 4⭑ | 3⭑ |
| Interface | 5⭑ | 4⭑ | 4⭑ | 4⭑ | 3⭑ | 2⭑ |
| Price | Free demo; $20 USD one-time purchase | Free demo; $50 USD one-time purchase | Free | Free demo; $5.69 USD one-time purchase; $1.49 subscription | Free demo; $1.99 monthly, $3.99 quarterly, $9.99/Year | $1.99 monthly, $4.99 6 months, $6.49 yearly, $7.49 one-time |
| File Types | 5⭑ | 5⭑ | 2⭑ | 4⭑ | 5⭑ | 1⭑ |
| Search Filtering | 4⭑ | 5⭑ | 4⭑ | None | None | None |
| Removal Selection | Automatic / Manual | Automatic / Manual | Automatic / Manual | Automatic / Manual | Manual | Manual |
| Strictness | Exact copies | Exact copies | Exact and some similar | Exact copies | Exact copies | Exact and some similar |
| File Previews | ✔ | ✘ | Limited | ✘ | Limited | ✘ |
| Drive support | External & Cloud drives | External drives only | ✘ | ✘ | ✘ | ✘ |
| Technical Support | User guide & customer support | User guide | User guide | Customer support | User guide & customer support | User guide |
| Ads | ✘ | ✘ | ✘ | ✔ | ✔ | ✔ |
Conclusion
Most of these products are useful tools to manage your duplicate files. If you are looking for an all-in-one Duplicate remover, then Duplicate Sweeper is your software! It offers an extensive feature list, and its online support function is streaks ahead of its competitors.
Alternatively, if you're after a budget solution for managing photos and videos I would suggest a tool like Duplicate File Remover as it's easy to use and is clear when finding duplicates, although is limited to only photos and video.

Publisher:
Wide Angle Software