Introduction
It's that time of year again, everyone is talking about new iPhones, iOS and macOS - and it's hardly surprising!
Released on Thursday, September 19, iOS 13 provides loads of new features and updates. Apple have made this latest release compatible with lots of devices, so even if you aren't splashing out on a new iPhone, you can still benefit from the iOS update. The update release has been closely followed by the launch of the iPhone 11, first released on Friday, September 20. It's an exciting time in the iWorld!
There's so much to talk about, but in this article, we'll delve into some of the main features you can expect to see in iOS 13. As always, don't forget to back up your iPhone before updating iOS - keep your photos, messages and other iPhone data safe.
Quick-jump to your feature of interest:
Release Schedule
- 09/19/2019 - iOS 13 official release.
- 09/20/2019 - iPhone 11 available to buy in stores.
- 09/30/2019 - iOS 13.1 update & release of iPadOS.
- "Later this fall" - macOS Catalina release.
iOS 13 Compatible Devices
Apple are rolling this update out to a surprising number of iPhones, all the way back to the iPhone SE; and also includes the 7th Gen iPod Touch. Unfortunately, this means that if you have an iPhone 6 (not iPhone 6S) or earlier device, you won't be able to update to iOS 13.
iOS 13 compatible devices:
iPhone 11
iPhone 11 Pro
iPhone 11 Pro Max
iPhone XS
iPhone XS Max
iPhone XR
iPhone X
iPhone 8
iPhone 8 Plus
iPhone 7
iPhone 7 Plus
iPhone 6s
iPhone 6s Plus
iPhone SE
iPod touch (7th generation)

iOS 13 Features
Photos & Camera(s)
The most noticeable thing about the new iPhone 11 and iPhone 11 Pro are the cameras (yes, plural). However, changes to photos are not just for the new iPhones.
If you have an iPhone XR or later, you'll be able to apply a monochromatic effect to your portrait photos. This looks set to create some stunning black and white portraits.
For all iOS compatible devices, photo editing will be elevated to the next level. New 'dials' for brightness, contrast, filters and even light intensity make it easy to preview your edits before applying the change.
It doesn't stop at stills either - Apple have shown some love to video editing too, providing the same editing tools as seen with photos. Now you can easily rotate, crop and auto-enhance your videos.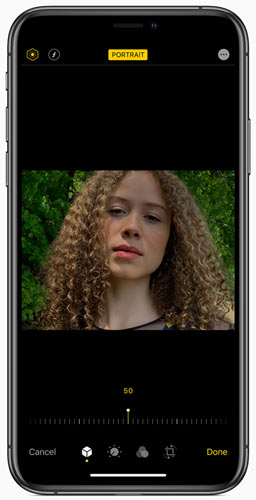 Dark Mode
Following the introduction of Dark Mode in macOS Mojave (10.14), Apple have rolled out the eye-saving mode to iOS too.
Dark mode applies an inverted colour palette to all system features, native apps and notifications. This not only looks super sleek and cool; it has numerous benefits for your eyes and wellbeing. Spending a lot of time looking at bright screens can cause headaches and other eye-related issues, so toning down the colours and brightness with Dark Mode combats and relieves these issues.
You can turn on this feature in your Control Centre or set it to automatically turn on at night when it's needed most.
Messages
Memojis: First off you create your Memoji (you can customise your Memoji to look just like you with more options lke make-up added in iOS 13), then you'll get access to a range of "stickers" you can use in Messages, emails and third-party apps to show emotions. Picture the popular "crying with laughter" emoji, but with your customised face instead of the classic yellow face.
Talking of Memojis, you can now choose whether people you contact see your name, photo or Memoji!
A final note to cap of the Messages section- Apple have added "Quickpath Typing". This is essentially "Gesture Typing" which has been around on Android for ages. You can now swipe to type instead of tapping each letter to make a word.
You may also like: How to print text messages from iPhone >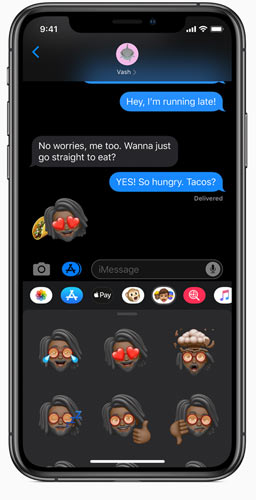 Privacy & Security
User Privacy and data security is on just about everyone's mind nowadays, and it's no wonder with so many cyber threats about. Apple has introduced some new security features in iOS 13 in an effort to contribute to a safer online experience.
We've all seen the "Sign in with Google" and "Sign in with Facebook" options on websites. These buttons provide a quick and easy log-in method to sites and services which allows you to bypass the usual filling in of long, boring forms (and creating and maintaining multiple passwords).
Now you'll see an extra option - "Sign in with Apple". This will allow you to sign into the app, website or service using your existing Apple ID after confirming it's you with FaceID or TouchID.
On the Privacy front, there's a big change which may put a stop to a lot of spam emails and keep your email address safer. Apple are providing an option to create a unique and temporary email address for you which will forward emails to your real email address.
Maps
Apple's response to Google Maps "Street View". A 3D 360-degree street view will be released in select US cities in late 2019.
Updates to existing map view provides more detail, making for a more realistic looking map with individual buildings, parks etc. Again, this feature update will have a staggered release, originating in selected US cities.
You'll be able to save your favourite locations for quick access - much needed.
List the best places in a particular area and share them with your friends. This is a pretty smart and innovative feature which could be fun! Only recently a friend asked for recommendations on where to visit in Madrid, and this feature could have saved me hand-writing a list like I was born in the Dark Ages.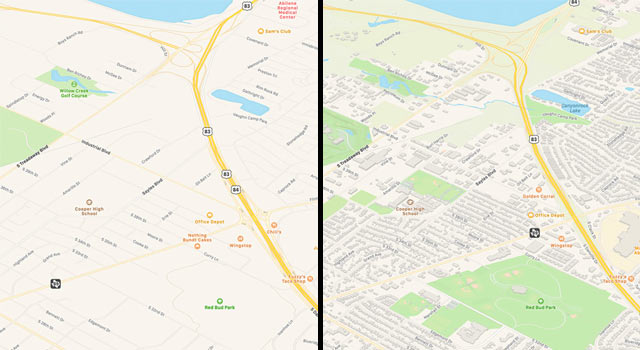 Siri
Siri is even smarter, and with the support from a now-integrated "Shortcuts" app, you should get more helpful results when you tell Siri to do app or homemade commands.
Siri can now distinguish different voices for a more personalised experience
Reminders
The Reminders app has received a much-needed rework to offer a more seamless, less chore-like experience.
Quickly add locations, dates, flags and photos to your reminders using the quick-nav stuck to the top of your keyboard.
Also, created "Smart Lists" will be automatically ordered and grouped for intuitive access of daily tasks or flagged lists.
Finally, Siri will make helpful suggestions about adding Reminders when you're discussing plans in Messages. This means you don't have to switch from app to app to add a reminder, and could also mean that you set more reminders and become more organised!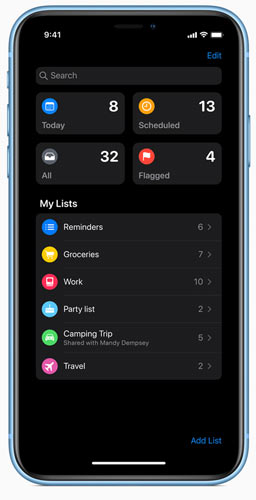 Performance
So, we have covered many of the biggest feature announcements packaged in iOS 13, but there's something to be said for overall performance of new updates. We expect modern technology to keep up with our busy lives (which only seem to get busier), which means faster and more powerful technology.
Apple claim that iOS 13 will be their most performant, with improvements to overall speed and app storage:
Unlock an iPhone up to 30% faster*
50% smaller app size on first download*
60% smaller app size when apps are updated*
Apps launch twice as fast*
*compared to iOS 12.3
Upcoming Features
Maps: 3D 360-degree street view will be released in select US cities in late 2019.
Realistic detailed maps, this feature update will have a staggered release, originating in selected US cities.
AirPods: Announce Messages on AirPods - works with 2nd generation Airpods (coming later autumn 2019).
Audio Sharing with AirPods - listen or watch with a friend with 2 sets of Airpods (coming later autumn 2019).
Backup Your iPhone Before Updating iOS
It's no secret that updating your iPhone doesn't always go to plan. To save yourself the heartache of losing precious photos, a lifetime of music, and memories in the form of messages, make sure that you backup your iPhone before updating.
Creating a backup doesn't take long and it will save you regret if anything bad should happen to your device. If you get in the habit of backing up your device regularly, or automatically, your data will be as safe as possible.
Check out our guide to find out how to back up your iPhone before updating iOS. It will take you, step-by-step though how to make a backup with iTunes, and how to back up other iPhone files to your computer with popular app TouchCopy. TouchCopy has been tested with iOS 13 and it is fully compatible.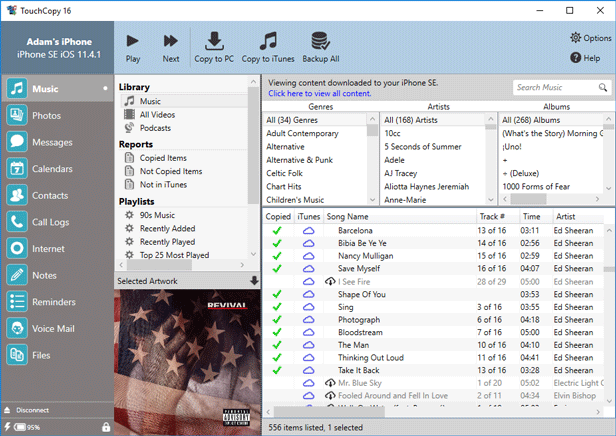 Publisher:
Wide Angle Software