How to print Call History from your iPhone





Average:

4.21

(

24

Votes).
Last Updated : | Wide Angle Software
What are iPhone Call Logs?
Whenever you make or receive a call on your iPhone, it will store a log of the call for you. This collection of logs makes up your iPhone call history.
Call logs are incredibly useful as they contain important information like the contact's name (or number if they are not saved as a contact in your device), as well as time, date, duration and whether a call was made, missed, or unanswered.
How do I access my iPhone Call History?
To access your call history on iPhone, unlock your device and open the Phone app. Tap "Recents" at the bottom of your screen to see a list of your call logs.
Please note that iPhones only show you the most recent 100 calls, however, more call logs are actually stored on the iPhone.
In order to access your older call logs, you'll need a third-party tool like TouchCopy.
How to Print iPhone Call History
TouchCopy can print your iPhone call logs as detailed below...
Download TouchCopy and connect your iPhone.
Open the "Call Logs" feature section.
Select a contact from the list to view the call history.
Click "Print".
TouchCopy can access all call logs from the phone, from WhatsApp, iMessage, FaceTime Skype and even Microsoft Teams calls!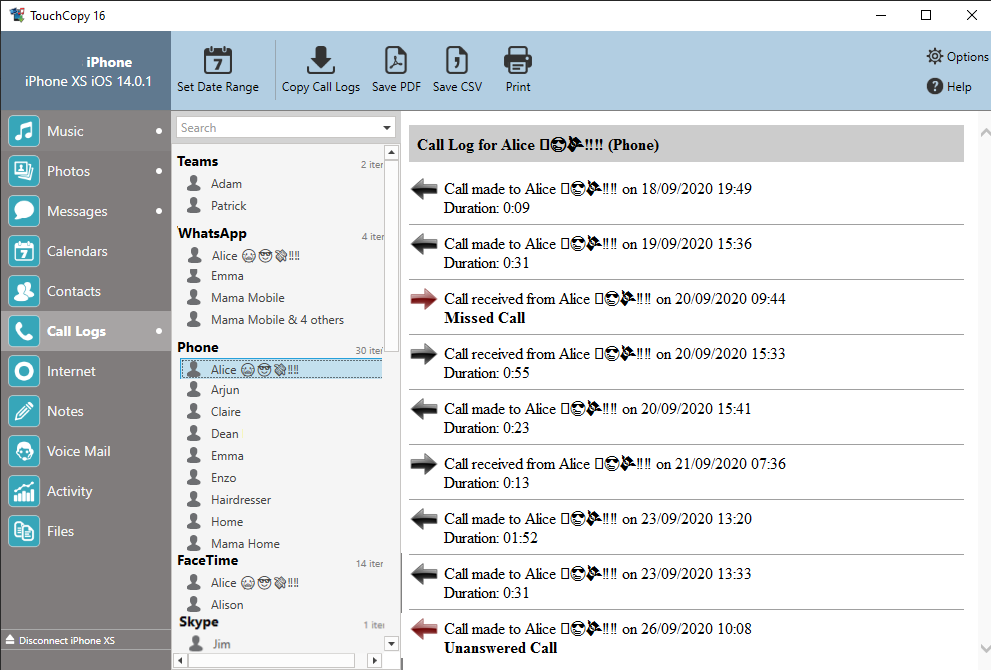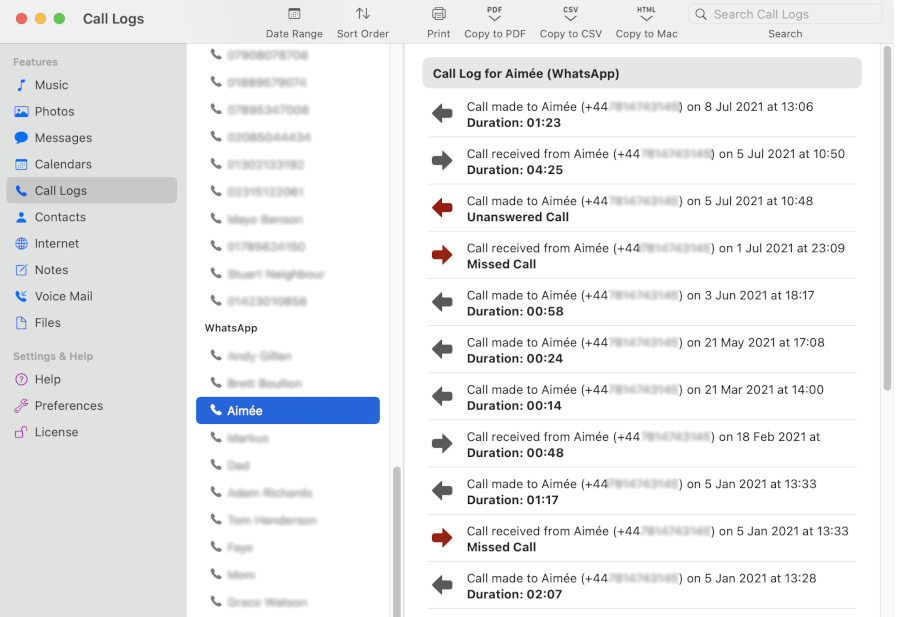 Free TouchCopy Download
Try TouchCopy free ▼
Receive an email with a link so you can download the free trial on your computer:
Note: We respect your privacy. We won't share your Email address with anyone else, or send you spam.
Users of iOS 13 and higher
For devices running iOS 13 and higher, encrypted backups are required in order for TouchCopy to access the iPhone call logs.
If your iPhone backups are not set to be encrypted, TouchCopy will not be able to find your call logs.
Please check out our guide on how to set your iPhone backups to be encrypted.
Back up Call Logs as HTML, PDF or CSV
In order to create a backup of your iPhone call logs, you'll need a third-party app like TouchCopy.
Backing up your call history ensures that it is safe if anything should happen to your iPhone. It also means that you can keep track of your call logs in the form of a list or a spreadsheet. We have found that this is very handy for professionals, and equally for people who simply want to keep their call history safe.
To save your call logs to your computer, open TouchCopy and connect your iPhone. Open the Call Logs section and select a contact. Now you can choose the format you'd like to save your call logs as: "Save PDF", "Save CSV" or "Copy Call Logs" (which will save as HTML).
Call History export formats:
Copy Call Logs: save your selected call logs as HTML files. HTML files can be opened in web browsers such as Google Chrome, Internet Explorer and Mozilla Firefox.
Save PDF: saves your call logs in the popular format "PDF" (Portable Document Format).
Save CSV: exports your call logs as Comma Separated Values. You can open such files in spreadsheet management programs like Microsoft Excel.
See it in action...
Don't forget to like & share with your friends!

Publisher:
Wide Angle Software
Back to TouchCopy Support