How to Backup Android Call logs





Average:

5

(

4

Votes).
Last Updated : | Wide Angle Software
Introduction
Call logs are important on your device, as they provide info on all instances of phone calls made to and from your phone. This data includes the contact's name (or number if they are not saved as a contact in your device), as well as time, date, duration and whether a call was made, missed, or unanswered.
If you wish to backup a log of phone calls made and received on your Android phone, please be aware that your Android phone only stores the last 30 days of call logs. To keep a record of call logs for a longer period, we would recommend doing a backup on a monthly basis.
Here's how backup your Android phone call history, completely free...
Summary
Transfer Companion App can backup your Android phone's call logs as detailed below...
Tap 'Export Call Logs'.
Tap 'All calls' to back up all of your phone's call logs, or select an individual contact to back up.
The selected call log will now be shown on your device. Click 'Export'.
Select which email to send the back up file to.
Input the email address you would like to send the call log to, and hit 'Send'!
If you also wish to save your call logs to your computer as a HTML or a PDF file, or even print out your call history for safe keeping, use the Droid Transfer app in conjunction with Transfer Companion app as described in our detailed instructions below.

Detailed Steps
On your Android device which has the call logs that you would like to back up, go to the Google Play Store. Find, download and install Transfer Companion to your device. This is completely free of charge.
Once installed, run Transfer Companion on your device. Tap the 'Export Call Logs' option.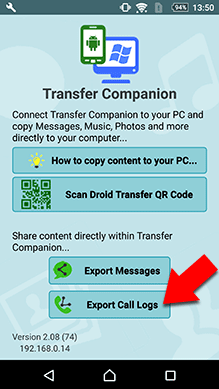 If you wish to backup all call logs on your device, tap 'All Calls'. Alternatively, to back up an individual contact's call log, tap the contact.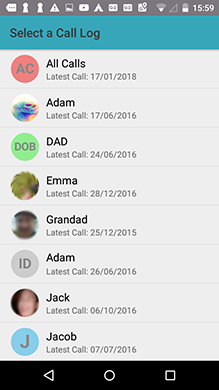 Transfer Companion will show the selected call log on your device's screen. Tap 'Export'.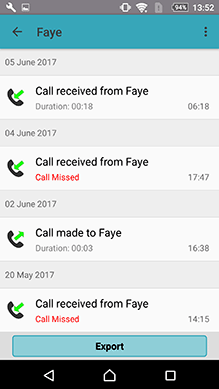 Now you'll be presented with options of how to share the call log. In this case, I chose to share the call log using my Gmail account.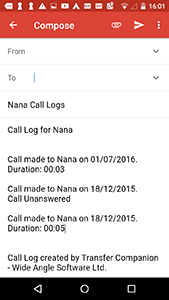 Finally, your chosen email app will open. You'll notice that your call log will be presented in the body of the email. To send the call log, simply enter the email address you would like to send it to, and tap 'Send'!
Back up Call Logs as HTML or PDF
To backup Call Logs to your computer as HTML or PDF files, Droid Transfer is needed. Simply connect Transfer Companion with Droid Transfer, go to 'Call Logs'. From here choose the contact or number whose call logs you wish to save and click on either 'Copy Call Logs' to save your call history as a HTML file, or choose 'Save PDF' in Droid Transfer.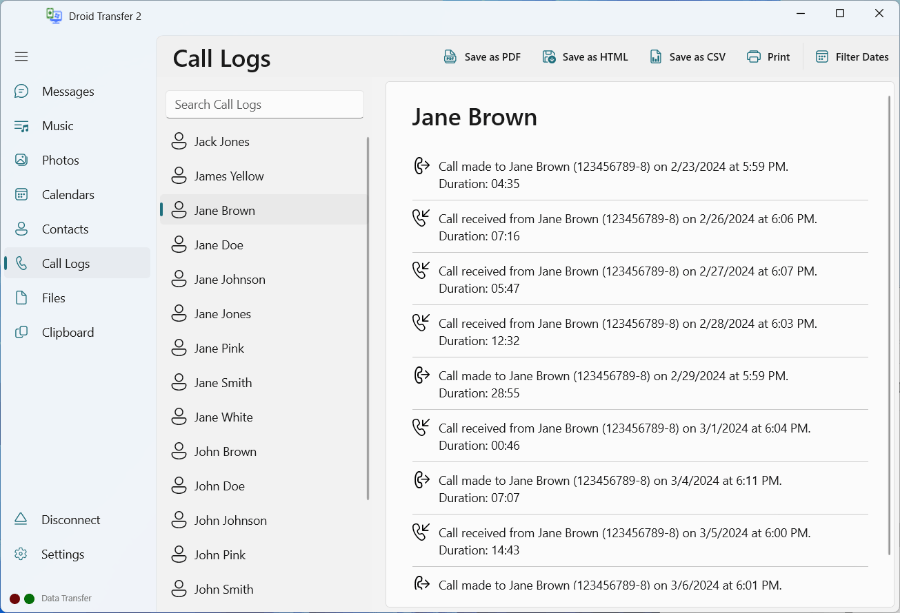 Print Call Logs
To print a copy of your call logs, simply click on 'Print' in the Call Logs functionality in Droid Transfer, as shown in the screenshot above. Printed call log information includes the contact name, dates and times calls were made and received, and call duration.
Printed call logs are useful for a variety of different reasons including presenting evidence in legal court cases.
The call log functionality is available in the free demo version of Droid Transfer. To view the demo restrictions please visit the download page below.
Get Droid Transfer Free Demo

Publisher:
Wide Angle Software
Any Questions? Contact a member of our support team at our helpdesk.
Back to Droid Transfer Support