How to Backup Android Call logs





Average:

4.11

(

19

Votes).
Last Updated : | Wide Angle Software
Introduction
Call logs are important on your device, as they provide info on all instances of phone calls made to and from your phone. This data includes the contact's name (or number if they are not saved as a contact in your device), as well as time, date, duration and whether a call was made, missed, or unanswered.
Here's how backup your Android phone call logs to your PC...
Summary
Droid Transfer can backup your Android phone's call logs as detailed below...
Download Droid Transfer and connect your Android device (Set up Droid Transfer)
Open the "Call Logs" tab from the feature list.
Select Name or phone number of contact whose call log you wish to backup.
Click "Copy Call Logs", "Save PDF" or "Save CSV".
Select where you wish to backup your call log on your PC, then Save!
Free Droid Transfer Download

Or see how to download and print Android call logs with Droid Transfer in the video below:
Back up Call Logs as HTML, PDF or CSV
To backup Call Logs to your computer as HTML, PDF or CSV files, Droid Transfer is needed on your PC and Transfer Companion app on your Android device. Both apps are needed to connect your phone and your PC over Wi-Fi or USB allowing you to backup your Android phone content on your PC.
Once connected, open the 'Call Logs' tab in Droid Transfer. From here use the Search box to find a contact or number whose call logs you wish to save, or simply select a call log in Droid Transfer. To backup all Call logs in one go, press Ctrl+A on your keyboard to select all your call logs.
You can choose to backup your call logs to your PC in different formats; click on either 'Copy Call Logs' to save your call history as a HTML file, 'Save PDF', or 'Save CSV'.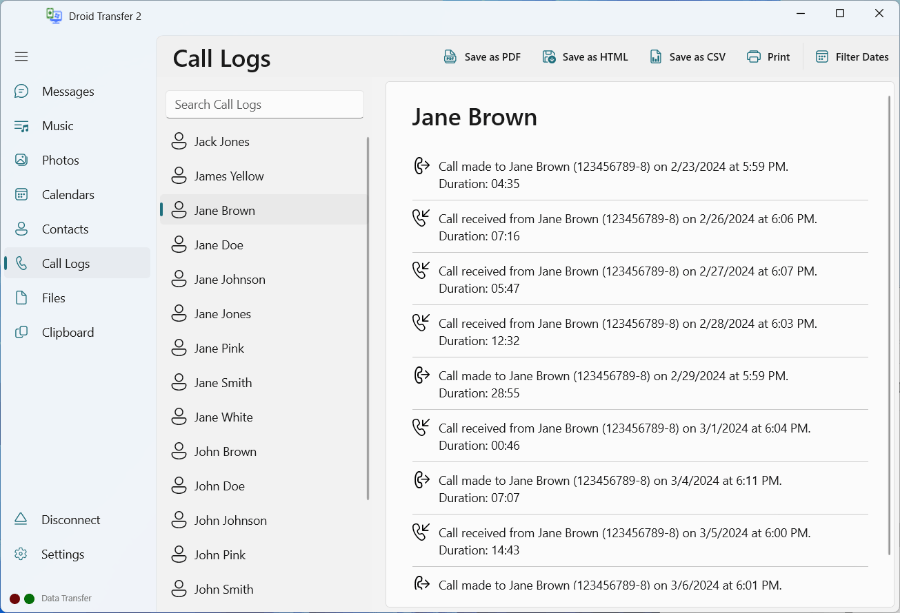 Call History export formats:
Copy Call Logs: save your selected call logs as HTML files. HTML files can be opened in web browsers such as Google Chrome, Internet Explorer and Mozilla Firefox.
Save PDF: saves your call logs in the popular format "PDF" (Portable Document Format).
Save CSV: exports your call logs as Comma Separated Values. You can open such files in spreadsheet management programs like Microsoft Excel.
It is worth noting that Droid Transfer can only backup call history stored on your device. As most Android phones are limited to storing a maximum of 500 call logs, we recommend using Droid Transfer to backup a record of your call history to your computer at regular intervals so that this information isn't lost when it gets overwritten on your device.
Print Call Logs
To print a copy of your call logs, simply click on 'Print' in the Call Logs functionality in Droid Transfer, as shown in the screenshot above. Printed call log information includes the contact name, dates and times calls were made and received, and call duration.
Printed call logs are useful for a variety of different reasons including presenting evidence in legal court cases.
The call log functionality is available in the free trial version of Droid Transfer. To view the trial limitations please visit the download page below.
Get Droid Transfer Free Trial
Don't forget to like & share with your friends!

Publisher:
Wide Angle Software
Back to Droid Transfer Support