Introduction
Apple's Worldwide Developers Conference has become a big date in the calendar of developers and tech nerds alike. We've broken down some of the key features regarding your iPhone, Mac, or iPad and picked out some key details which we wish to highlight.
Table of contents:
Release Schedule and Compatible devices

June 6th, 2022 - first betas of iOS 16, iPadOS 16, macOS Ventura, watchOS 9 and tvOS 16 available to developers.
July 11th, 2022 - Public beta versions of iOS 16, iPadOS 16, macOS Ventura, watchOS 9 and tvOS 16 are available to all users through Apple's public beta program.
September 12th, 2022 - All users can now install iOS 16, watchOS 9 and tvOS 16.
October 24th, 2022 - iPadOS 16 and macOS Ventura are beginning to roll out to all users.
Compatible Devices
Apple usually supports software updates to its devices long after release. However, iOS 16 support has been dropped on the iPhone 6s, the iPhone 7, as well as the 7th Gen iPod Touch, now discontinued, but which was available to purchase on the Apple store up until May 2022.
iOS 16 compatible devices:
iPhone 8 and 8 Plus
iPhone X
iPhone SE (2020)
iPhone XS and XS Max
iPhone XR
iPhone 11 series
iPhone 12 series
iPhone 13 series
iPhone 14 series
iPadOS 16 compatible devices:
iPad mini 5, iPad mini 6
iPad 9.7 (2017) and newer
iPad Pro all models
iPad Air (2019 and newer)
macOS Ventura Compatible Devices:
iMac and iMac Pro (2017 and later)
MacBook (2017 and later)
MacBook Air (2018 and later)
MacBook Pro (2017 and later)
Mac Mini (2018 and later)
Mac Pro (2019 and later)
Mac Studio (2022)
iOS 16 Features
Lock Screen updates
Opening with iOS 16, the Lock Screen will be revamped in iOS 16, with a wide range of ways to personalise your lock screen. From a visual perspective, iOS 16's 'multi-layered effect' allows for the subject of your lock screen image to be placed in front of the time. In addition to this, Date and Time visuals can be customised by changing font styles and colours. The Lock Screen's functionality is also being revamped, with watch-inspired widgets being added – allowing you to quickly observe calendar events, weather and activity rings to name a few. Notifications will also change, with the redesign showing notifications scrolling up from the bottom of the screen.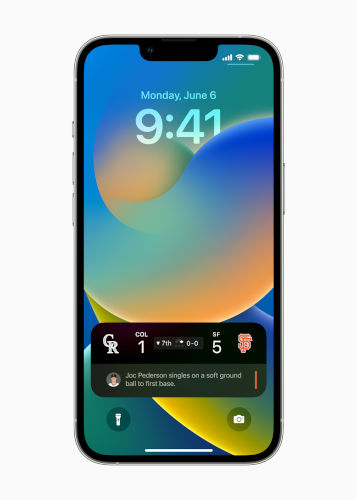 Messages
Messages will see some heavily requested changes. You will be able to edit messages, allowing you to change what you said or correct any typing errors. Alternatively, you will now be able to unsend messages, leaving you free to correct any errors or accidental messages you might send.
Camera intelligence
iOS 16's intelligence is getting an upgrade with features that will add some extra impressive features to your phone. You'll be able to lift the subject from photos, removing the background from the image. This will be available in photos, safari, screenshots & more. As well as this, Apple has added live text for video, allowing you to copy, translate and look up.
macOS Ventura and M2 chip announcements
MacBook Air with M2 chip
Despite a $200 price rise on its introductory price for the new MacBook Air – Apple has certainly beefed up the performance of its 2022 MacBook Air with its brand new M2 Chip. The M2 is going to provide a 20%-60% improvement in performance for most tasks. Apple has extended the screen size from 13.3-inches to 13.6-inches, which gives the MacBook a notch like the iPhone, housing a new 1080p Webcam. The final key addition was adding MagSafe charging, the same as the 14- and 16-inch MacBook Pro.
The new M2 Chip has also been added to the 13-inch MacBook Pro – which has not received any other changes to it and is priced only $100 higher than the new MacBook Air.
macOS Ventura
macOS Ventura is Apple's newest version of its computer software and comes with some impressive new features. Stage Manager has been introduced to improve upon Mission Control for productivity. Stage Manager arranges your open windows on the left-hand side of the screen, allowing its users to concentrate on whichever projects they are working on while being able to keep an eye on other tabs and seamlessly switch between tabs.
With the rise in popularity of webcams, Apple is also adding Continuity Camera to macOS Ventura. Continuity Camera allows Apple users to get the most out of their iPhone camera, as your MacBook will automatically recognise your phone's camera and let you use it as a webcam. Continuity Camera also lets you use features such as Desk View, which will enable the wide-angle camera to show your desk and your face while using Facetime, taking your calls to another level!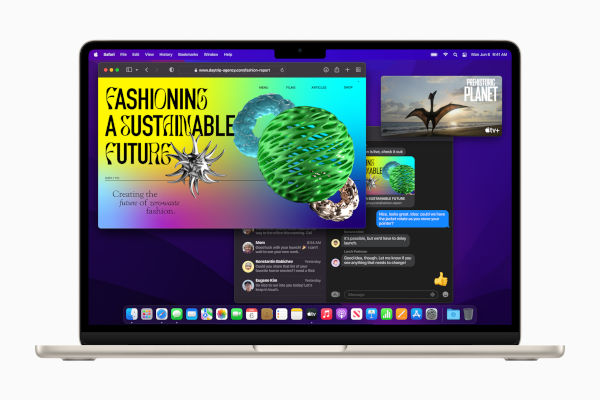 iPadOS 16 Features
iPadOS 16 is gradually taking the iPad ever closer to challenging laptops when it comes to productivity. Freeform is Apple's new solution to collaborative working. There's no limit to page sizes allowing you to work freely, and with full support for facetime and message communication while using freeform meaning you can work with colleagues easily.
The iPad Pro and the 5th gen iPad Air with Apple's M1 chip, are where the real benefits of iPadOS 16 come in. Following on from freeform, iPadOS 16 will see the introduction of Stage Manager just like MacOS Ventura, further solidifying the iPad's strength as an alternative to using a laptop because of its fantastic multi-tasking capabilities.
In addition to this, Display Zoom increases pixel density which can allow you to get that extra bit of performance out of your iPad. This will let you view more of your apps, and may really come in hand when viewing apps in split view. Multi-tasking will be even slicker with the new Virtual Memory Swap, which allows for your iPad storage to be used, in order to expand the available memory up to 16MBs, allow you to get those heavyweight apps running at a high level.
Also, Apple has FINALLY added the Weather app to the iPad, however if you need a calculator, you'll need to use your iPhone or go old school with a real calculator!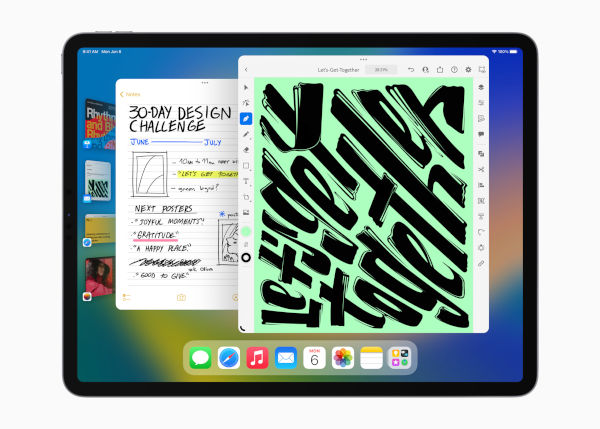 Publisher:
Wide Angle Software