Black Friday deals on our popular software titles!
Last Updated : | Author: Wide Angle Software Dev Team

The Holiday Season is upon us, we hope you're ready for the season of gifts, food and festivities! The team at Wide Angle Software wish you all a very Happy Thanksgiving, have a wonderful time with friends and family.
It's been another tough year for many, so why not take advantage of some big discounts on some of our most popular software titles: Droid Transfer, iBackup Extractor, Tune Sweeper and Wide Angle PDF Converter!
Black Friday Deals
In the spirit of special offers, we'd like to offer our customers some big discounts our popular software titles. The sale starts today and spans to December 9th, which allows you enough time to try out our free trial download before committing to a (discounted) purchase. For access to this limited-time offer, select a product below, or read on below to find out more about the products.
Popular software with Black Friday discounts already applied on our store!
The 20% offer below is hosted on our secure and trusted third-party reseller, FastSpring.
On the product page, click on "Enter Promotional Code" under the Total. Here, please enter the Coupon Code: BLACK
Then, click the Apply button to apply your 20% discount to your order!
Available Software
Wide Angle Software develop various tools, but we specialize in media management applications for Windows, Mac and mobile devices such as iPhone, iPod, iPad and Android. Discover more about the programs included in our Black Friday deals below:
If you accidentally deleted or lost any of your iPhone data, our iBackup Extractor allows you to recover iPhone contacts, photos, SMS and more from your iTunes and Finder backups on your PC or Mac.
Backups made via iTunes/Finder are a great safety net if you need to restore a device - however, you can't retrieve your files from such a backup. With iBackup Extractor you access all your content, and choose to extract your favourite photos, contacts or special conversations, directly to your computer!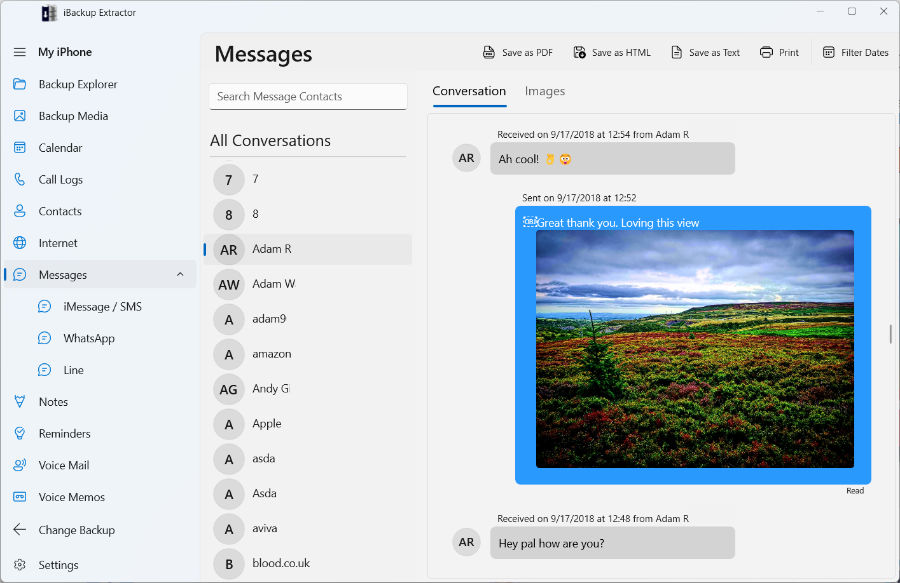 Wide Angle PDF Converter - Convert your PDF files to a variety of formats including Microsoft Office (Word, PowerPoint, Excel), and popular image formats like JPG and PNG.
PDF Converter also provides essential tools like merging and splitting documents, protecting them with a password and extracting images from PDFs.
Droid Transfer - The ultimate Android management app is on sale! Save precious message conversations as HTML, PDF or Plain Text, or print them out. You can even access and save other content types like Photos, Music, Call Logs, Contacts and more!
Need to get your music library ready for the holidays? Copy music between Android and PC, and even sync with your iTunes library.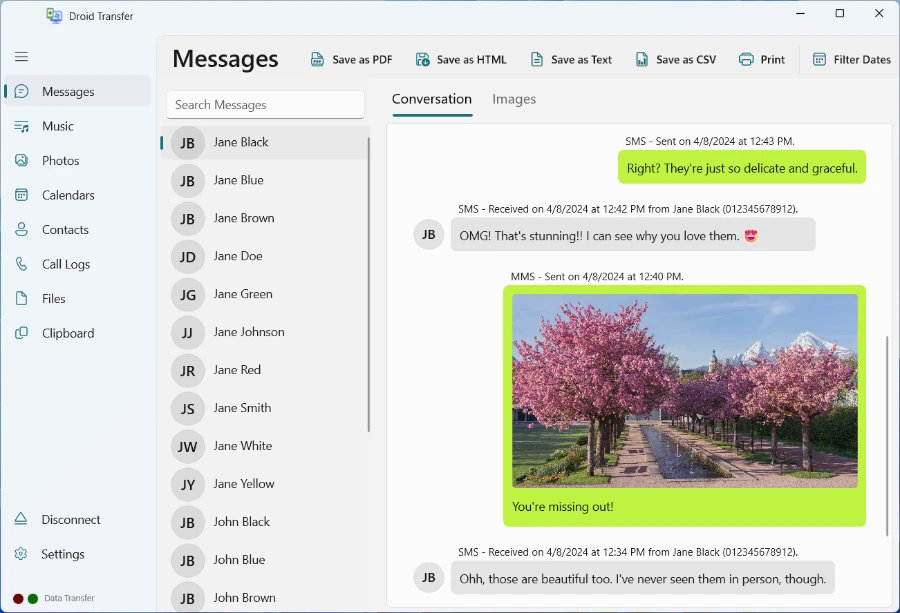 Tune Sweeper - Talking of music libraries, how long has it been since you did a spring clean on yours? With Tune Sweeper, you can quickly and easily find and delete duplicate songs in iTunes (or Music app on Mac), saving your storage space and sanity. You can also automatically fix incorrect track info, download missing album artwork, remove dead tracks and more! Available for Mac and PC.

The Wide Angle Software Promise
Here at Wide Angle Software we are constantly striving to provide the best software and the best experience for our customers.
For this reason, we offer:
In case you run into any issues, questions or recommendations, we have a friendly support team who are always happy to help.
A one-time payment, no hidden fees, no subscriptions. No Spyware, no adware, no viruses.
A 30-day Money-Back Guarantee. If you're not completely satisfied with your purchase, we'll provide a complete refund for you up to 30 days after your purchase.
Other Articles by Wide Angle Software you may be interested in

Publisher:
Wide Angle Software