Introduction
PDF files are the go-to format for sharing documents, however, there are restrictions on such files which make them difficult to modify or edit. As such, you may find yourself looking for a way to covert your PDF files to Word or another editable format.
There are many different PDF converters out there, each offering slightly different features. This article will cover the different types of features that you may need from a PDF converter, enabling you to make an informed decision on which one is best for you.
Quick jump to any of the 5 PDF conversion methods reviewed:
PDF Converter Features
So, what should you look for in a PDF Converter? Here are the top aspects to consider when evaluating which PDF Converter you should use:
Multiple conversion formats - The best PDF converters should provide you with a great toolset, enabling you to convert PDF documents to a variety of different formats for any occasion.
Security - In this age, data security is on the tip of everyone's tongue for a good reason. Keeping personal, or business data safe is incredibly important to avoid any devastating hacks or leaks. In PDF converters, look for the ability to protect documents with passwords, restrict user permissions, and consider whether you want to perform your conversions online, or on your local computer.
Speed and Efficiency - Your time is precious. Look for features like bulk conversions to convert multiple documents at once. Also consider the use of merging PDFs into one file or removing pages from a PDF before sharing.
Specificity and Selections - It's handy to have features which allow you to extract certain text or images from a PDF document.
Customer Support - Are professionals on hand for any queries or issues you may have?
Cost - Many PDF Converters come with a cost. A cost usually indicates work which has gone into developing features, interface and usability. Decide which features are most important to you and compare that to the budget you have available.
A summary of the features in some top PDF converters
| Features | Wide Angle PDF Converter | Adobe Acrobat Standard DC | EasePDF | PDF Conversion Suite | pdf2doc |
| --- | --- | --- | --- | --- | --- |
| Multiple conversion formats | ✔ | ✔ | ✔ | ✘ | ✔ |
| Security | | | | | |
| Password Protection | ✔ | ✔ | ✔ | ✘ | ✘ |
| Set User Permissions | ✔ | ✔ | ✔ | ✘ | ✘ |
| Online / Offline Conversions | Offline | Offline | Online | Offline | Online |
| Efficiency | | | | | |
| Bulk Conversions | ✔ | ✔ | ✔ | ✘ | ✔ |
| Merge PDFs | ✔ | ✔ | ✔ | ✘ | ✔ |
| Remove pages | ✔ | ✔ | ✔ | ✘ | ✘ |
| Edit PDFs | ✘ | ✔ | ✔ | ✘ | ✘ |
| Specificity | | | | | |
| Extract Text | ✔ | ✔ | ✔ | ✘ | ✘ |
| Extract Images | ✔ | ✔ | ✔ | ✘ | ✘ |
| General | | | | | |
| Customer Support | ✔ | ✔ | ✔ | ✘ | ✘ |
| Cost | $30.00 / one-time payment | $22.99 / per month | $39.95 / year | Free (2MB per file limit) | Free |
Option 1: Wide Angle PDF Converter (Recommended)
Our recommended solution comes first - Wide Angle PDF Converter. All things considered, for the purpose of converting PDF to Word on Windows 10 or 11, this handy piece of software comes out on top.
It's got all the features you need (and more), and you can get your hands on it for a fraction of the price (only $30 one-time payment) of the big names.
If you don't need an all bells-and-whistles program to edit, sign or write directly on your PDFs, Wide Angle PDF Converter is perfect for your PDF to Word needs.
Convert PDFs to a huge range of different formats including Microsoft Word, Excel, PowerPoint as well as images like JPG.
Manage PDFs- Bulk conversions, merge, split, rotate, bookmark.
Secure PDFs- Password protect your documents, set user permissions for sharing and add watermarks.
Integrates with Microsoft Outlook- Save your emails as PDF files.
Summary (Wide Angle PDF Converter):
✔ Multiple conversion formats
✔ Secure output
✔ Fast & Efficient
✔ Offline Conversions
✔ Free Trial allows 2 free document saves / conversions
✔ Lifetime license is excellent value
Option 2: Adobe Acrobat Standard DC
Next up is a name which I'm sure you'll have heard of - Adobe Acrobat. Adobe creates many software solutions ranging from photo and video editing software to programs to help code websites and apps. Acrobat DC is Adobe's PDF converter, and it's among the best.
Although Adobe Acrobat Standard DC is the most expensive solution in our list, it is the most feature-rich of the solutions reviewed. It's also worth pointing out that this app uses a subscription model, so you'll have to pay monthly to keep using it. You can bring down your outgoings by committing to a year.
If you use a Mac regularly too, you may want to consider Adobe Acrobat Pro DC, which allows you to manage PDFs on Windows and Mac computers.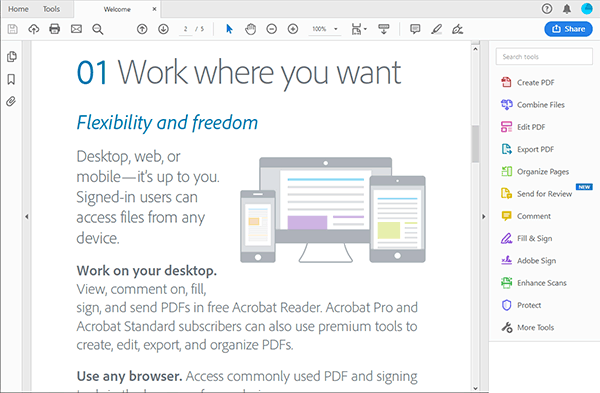 We recommend Adobe Acrobat for those people who desire a complete package for converting, editing and sharing PDFs. The program offers extra features which fall outside the scope of this comparison (which is to simply convert PDF to Word) including signing forms, multi-platform usage and easy sharing.
Summary (Adobe Acrobat DC):
✔ Multiple conversion formats
✔ 2-way Conversions
✔ Edit PDFs
✔ Secure exports
✔ Windows and Mac
✔ Desktop and Mobile
Option 3: PDF Conversion Suite
Is Adobe just too much and too expensive for your requirements?
If you're simply looking for a quick, easy and local way to convert a small PDF file to a Word document, try PDF Conversion Suite. This handy little app is available on the Microsoft Store and the free version allows conversion of smaller PDF files, with a 2MB per file limit.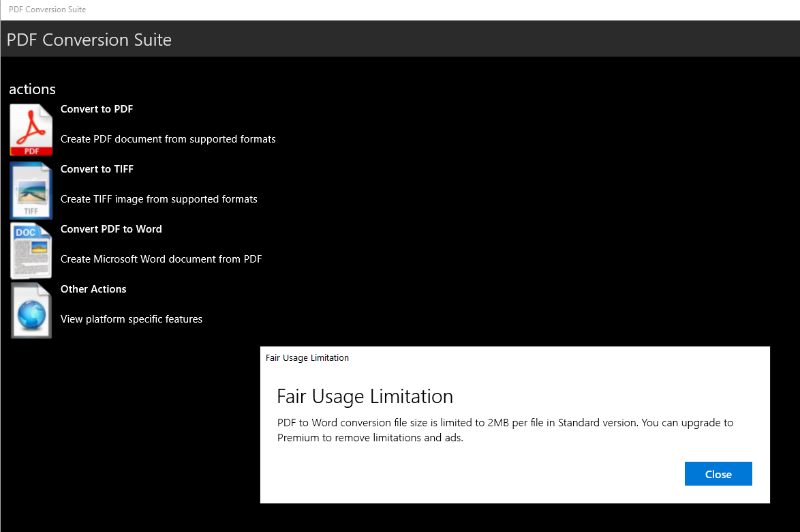 This app does not have any PDF organizing functions or editing ability which we've seen in options 1-3, and its interface isn't very exciting, but for smaller file sizes, this is a very convenient solution.
PDF Conversion Suite also does not have great efficiency, as you cannot currently perform batch conversions (converting multiple PDF to Word at once).
Summary (PDF Conversion Suite):
✔ Only 2 conversion formats
✔ 2-way Conversions
✔ Free PDF to Word conversion is limited to 2MB per file
✔ In-app purchase required to remove limitations and ads
Option 4: pdf2doc.com
Following in PDF Conversion Suite's example, here is another simple to use free PDF to Word converter - PDF2Doc.
You may have spotted the key difference in this option already. That's right, this one is a website, rather than a downloaded app. This means that instead of converting your files locally on your computer, your files will be uploaded to an online server in order to be processed, then you'll download the converted file back to your computer.
If you don't mind uploading your files to an online server, this option is great for your basic PDF to Word needs. For those with sensitive documents, however, you may think twice about converting such files online.
Summary (PDF2Doc):
✔ Multiple conversion formats
✔ 2-way Conversions
✔ Batch Conversions
✔ Free
✔ Online
Option 5: EasePDF Online Converter
EasePDF is another trusted online PDF solution provider. This platform runs online, so you just need a reliable web browser for accessing it, supporting any devices with different systems, including Windows, Mac, Android, iOS, etc.
EasePDF provides a range of easy-to-handle tools with a PDF Converter enabling you to convert PDF documents to and from different file formats, as well as a PDF Editor, allowing you to edit, rotate and sign PDFs. You can also organize your PDF documents' layout by merging, splitting, compressing, cropping, as well as protect your PDFs with passwords.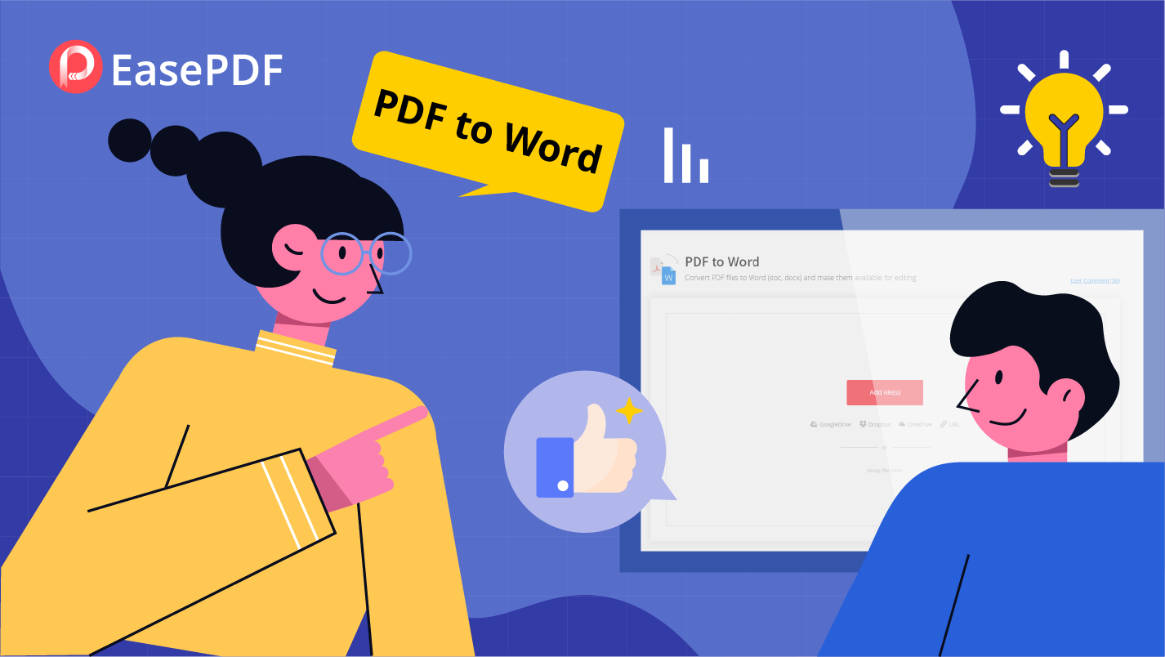 If you're happy to upload your PDF documents online, EasePDF is a good choice due to its speed, availability on multiple platforms, free trial version, and is competitively priced at $39.95/year for the premium plan.
Summary (EasePDF Online PDF Converter):
✔ User-friendly UI
✔ Choice of PDF converters
✔ Cloud platform connection
✔ Free Trial
✔ Online
Conclusion
As you can see, choosing a PDF Converter is very much dependant on your specific needs. In this article, we've had a look at 5 of the best PDF to Word Converters, of which there are hundreds or thousands more. We handpicked these 5 programs to help in your search, and from this investigation, you should have the information you need to choose a PDF Converter.
Overall, we believe that Wide Angle PDF Converter is the best all-round performer for value for money.
Next Step: Why not download the Wide Angle PDF Converter free trial and try it for yourself today?

Publisher:
Wide Angle Software