Using our algorithm, finding and analysing files is extremely fast. Even so, especially for large scans, it might help you save time to keep the search data for further use. If this is the case, then please, read on.
Saving your Data:
To save your Search Data, simply click on "File" on the toolbar, and click on "Save Search Results...".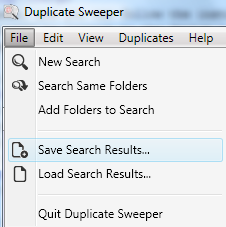 You will be prompted to select where to save the Search Results.
This file is a collection of all the search data, and you can load it back by clicking on "File" and proceed to click on "Load Search Results..."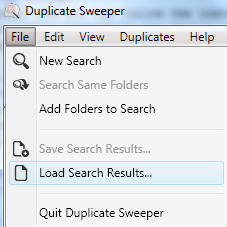 The data will now be loaded onto the program, allowing you to browse through the duplicates found again, re-do the search or even add more folders.