Wide Angle PDF Converter
PDFs (Portable Document Format) make sharing and reading information convenient. However, when it comes to modifying, editing, or securing files of this format, things can get tricky.
Conversely to web-based converters, Wide Angle PDF Converter performs all functions locally on your computer. This means that your sensitive information is not uploaded to the internet, and is not passed through other third parties. In this way, your files will remain safely on your PC or laptop.
Wide Angle PDF Converter is designed to make PDF management painless. It's functions can be split into 3 categories:
Conversion:
Easily convert your PDF documents for viewing or editing in other applications. Formats available include Word, Powerpoint and Excel. The app even provides the ability to convert entire PDF documents, or single pages of a document to image files like JPEG, PNG and GIF.
Check out our user guide for more information on how to convert PDFs.
Modification:
Despite it's name, Wide Angle PDF Converter does a lot more than converting your documents; it also offers the ability to merge or split your PDFs, so you can access and extract only the information that you need. Merge 2 or more PDFs together, split a PDF into individual pages, or export specific selected text or images.
Learn more about the PDF modification features.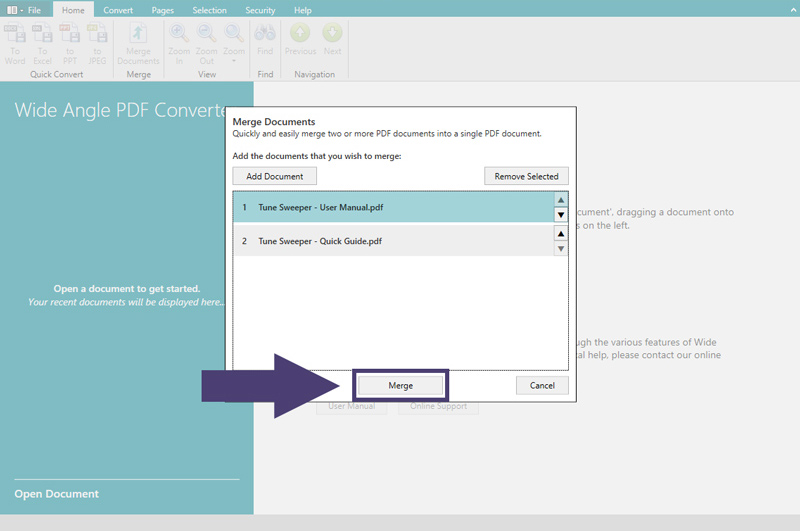 Security:
The security of your files is important to us. Along with the safety that comes with the app being local, rather than web-based, we have also included loads of features to help you secure your PDFs. Encrypt and protect your files with a password, add watermarks, and set user-privileges to restrict the usage of your documents.
Find the full list of PDF Converter Security features, and a guide on how to use them.
As with all of our software, PDF Converter is available as a free download. This demo version of the software will allow you to explore the features of the app and convert 2 PDFs, free!
Download PDF Converter Demo