How to copy playlists from iPod to Computer?




Average:

4.67

(

3

Votes).
Summary
To copy playlists from your iPod to your computer, follow these instructions...
Download and install TouchCopy.
Connect your iPod to your computer via the USB cable.
In TouchCopy, select the playlist you want to copy and click "Copy to iTunes".
You can download the free demo of TouchCopy below, allowing you to transfer up to 100 tracks, FREE!
Download TouchCopy Now
Detailed Steps
To transfer your iPod playlists into iTunes select the Playlists you want from the source list in TouchCopy. You can select multiple playlists by CTRL-Clicking items in this list.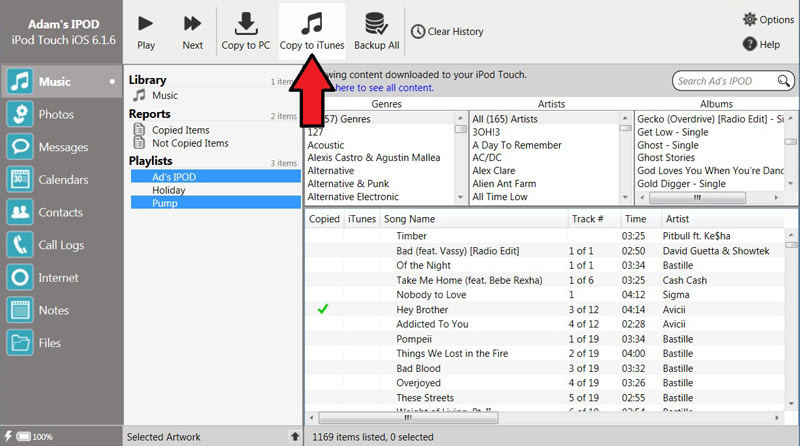 Once you have selected your Playlists - click the iTunes button in TouchCopy.
When transferring a playlist into iTunes, the songs are transferred and a new playlist of the same name is created.
Note that if a track is already in your iTunes main Library, TouchCopy will not create a duplicate of that track in iTunes, it will just add the track to the Playlist.
For details on copying playlists to iTunes please see the TouchCopy user guide.
TouchCopy can also copy your playlists to your computer hard drive. For this, select a playlist and click on "Copy to PC" or the "Copy to Mac" button.
Music in the playlists will be saved to your computer in the folders and file name format you have specified in TouchCopy Options. TouchCopy also produces an XML file named after the Playlist you are copying. This XML file contains information about the tracks and track order of the Playlist. The XML file can be used to import the playlist into iTunes by choosing File > Library > Import Playlist in iTunes.
Also please see our YouTube video demoing how to transfer songs and playlists to iTunes.