How to Save iPhone Voice Mail Messages
TouchCopy allows you to copy and export Voice Mail messages you have received on your iPhone.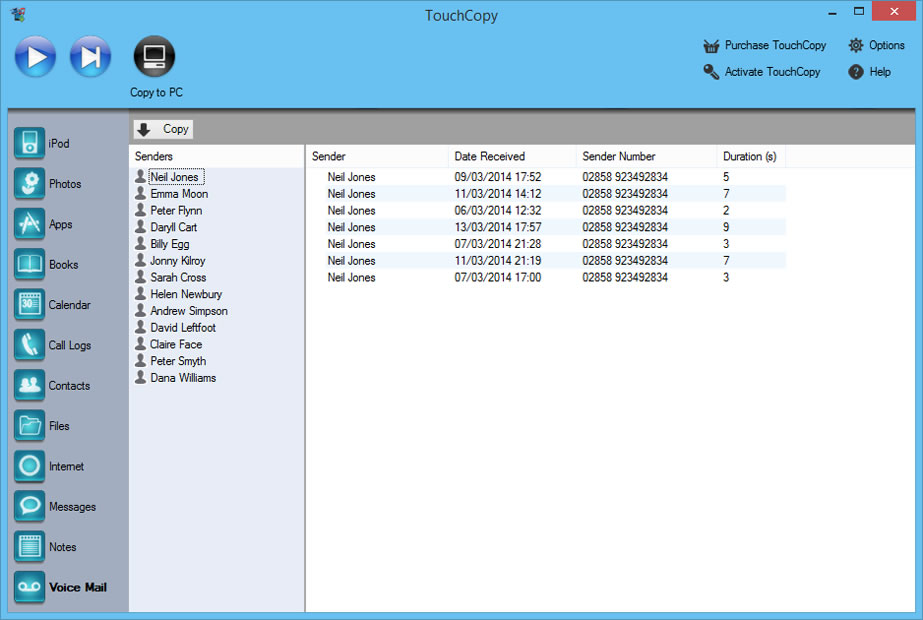 TouchCopy will display and extract voice mails if your iPhone supports Visual Voice Mails. These will be voice mails that are provided as part of the Visual Voice Mail data plan from your mobile service provider. You can determine if your wireless carrier includes Visual Voice mail as part of their service from here...
http://support.apple.com/kb/HT1937.
To view all Voice Mails stored on your iPhone, download and install TouchCopy on your PC or Mac, run the program and click on the Voice Mail button.
Displaying and Browsing Voice Mails
TouchCopy displays a list of people or senders who have left you a Voice Mail Message. Clicking on a name in the list displays the voicemails left only by that person.
TouchCopy also highlights those voice mails that have not yet been listened to on your iPhone and those voice mails that you have deleted from your iPhone. You can click on the "Deleted" or "Unplayed" entries in the sender's list to view just the voice mails under those categories.
Copying Voice Mail to your Computer
Select one or more Voice Mail message from the list and click "Copy" in the Voice Mail browser or the "Copy to PC" or "Copy to Mac" button in the main TouchCopy control bar.
If you do not select any individual messages to copy, TouchCopy will copy all the voice mails currently listed. This may be all the voice mails on your iPhone or messages from a subset of senders depending on what has been selected in the senders list.
Playing Back Exported Voice Mails
TouchCopy wiill save your voicemail messages the format they are stored on your iPhone - as .amr files. You can play back your saved iPhone voicemail messages using the freeware AMR Player software or QuickTime for Mac.