Duplicate File Finder
Using Duplicate Sweeper you can quickly identify and remove duplicate files on your PC or Mac. You'll be surprised just how much disk space Duplicate Sweeper can save you! It's fast, easy to use and safe.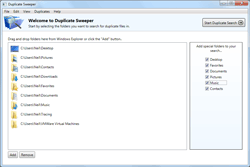 Click to enlarge
Step one - Select where to look...
The first step is to select which folders you want Duplicate Sweeper to search for duplicates in. You can add any folder you like but Duplicate Sweeper helpfully provides you with check boxes to automatically select popular folders like Documents, Pictures, Contacts and more.

Step Two - Review the results and select what to keep...
Duplicate Sweeper will display the duplicate files found in your selected folders. A summary of the duplicate files by type is shown - ordered by total file size - so you can see what is taking up your disk space at a glance.
For each set of duplicate files, Duplicate Sweeper shows the number of files duplicated and how many files you have selected to delete. In the example below, the file "Blogs.png" has been found twice. One of these files has been selected to be deleted (shown in red).

For each duplicate set, you can automatically select to keep the newest or oldest file. This selection can be made on individual groups of files, for file types or for all the duplicate groups found.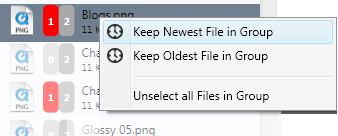 If you're not sure which file to keep, you can preview files content in Duplicate Sweepers preview panel. Of course all the files in a duplicate group should be the same!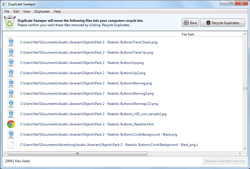 Click to enlarge
Step Three - Confirm and Remove Duplicates
Duplicate Sweeper will list all the files you have selected to remove.
If your happy with the selection click "Recycle Duplicates" and these files will be moved to the Recycle Bin.

More Duplicate Sweeper Features